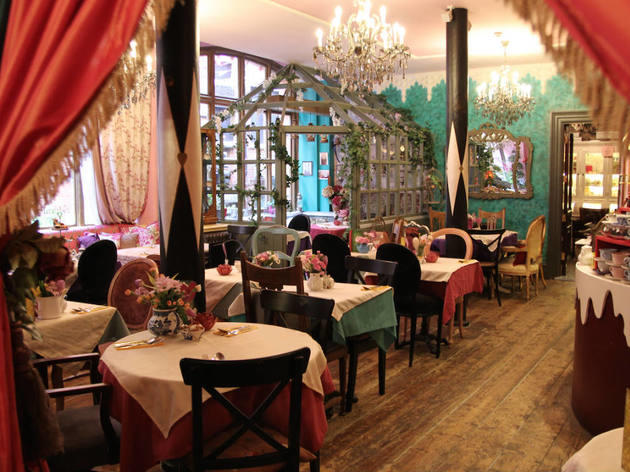 1/2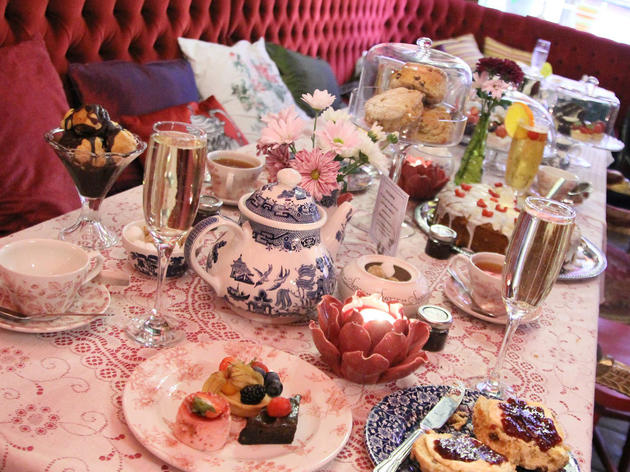 2/2
Gay-friendly, Alice in Wonderland-inspired café big on gigantic scones and mismatched tableware. A full menu and cocktails are also served in the evenings

Had Alice emerged from the rabbit hole in modern day Manchester and found herself pining for a spot of tea, she may well have ended up at Richmond Tea Rooms.

Situated on a side street in the Gay Village, it's a space of two halves and the tea room has to be seen to be believed. It takes camp to a new level, inspired by all things Wonderland and with a skewed nod to the Mad Hatter's own tea party. It's a sumptuous bombardment of colour and gluttony – and that's just the décor.

Afternoon teas, sandwiches, scones, creams and jams are piled onto vertiginous cake stands, while a huge selections of teas, plus breakfasts, snacks and a full evening menu make the choices on offer plentiful. China abounds, most doesn't match, and it all adds up to the feeling that you've slipped into one of Lewis Carroll's chemically enhanced dreams.

The cocktail lounge next door has more of a lodge feel – dark wood, antlers, a green leather sofa – and is a far less psychedelic experience, yet becomes an extension of the tea room at busier times.

Joyously, Richmond Tea Rooms is always busy and you might well have to wait for a table. Why joyous? Because you'll be waiting with a troupe of transvestites, a pack of hungry bears, a family celebrating a birthday with wide-eyed children, and that makes the place a success by any standards.

The food is good and the portions won't leave you wanting more. Wonderland was a place of excess, after all.
Venue name:
The Richmond Tea Rooms
Contact:
Address:
15 Richmond Street
The Village
Manchester
M1 3HZ

Rating Breakdown
5 star:

0

4 star:

0

3 star:

1

2 star:

0

1 star:

0
I visited The Richmond Tea Rooms in the heart of the Gay Village yesterday at about 5pm and it was packed! We had to wait a couple of minutes for a table. It gave us a chance to look around at the quirky, vintage style decor. Once we were shown to our table we had menus straight away but after that we constantly had to keep asking the staff for things. I know they were busy but we got the feeling they were avoiding eye contact. Once our order was eventually placed we waited about half an hour for food to arrive. We were just about to enquire as to how much longer we would have to wait when it miraculously appeared. I ordered the avocado, bacon and blue cheese salad which was quite pleasant. The bacon was lovely and crispy and contrasted well with the avocado which was beautifully soft. My friend had the Croque Monsieur which she struggled to finish. Be warned the portions are massive! The afternoon teas did look delicious, the Alice in Wonderland themed decor is novel and it is an interesting place to people watch. I spotted tourists, students, ladies who lunch etc. If I were to return I would probably choose a different time of day when it is maybe not so busy. Their themed cabaret evenings look like fun too!