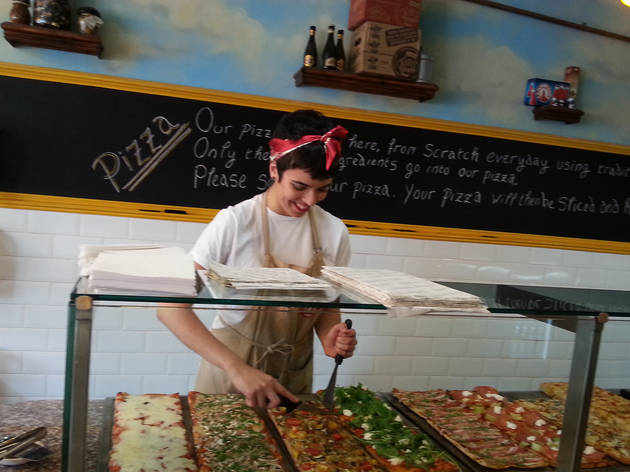 Humble but heroic pizza joint in the Northern Quarter. Takeaway slices cost less than £3, or you can pull up a table (and a beer) for a more leisurely meal

Slice was a brave place when it opened. Back then, bars weren't pouring out of every orifice in Stevenson Square. There were the old stalwarts: Soup Kitchen, Eastern Bloc, The Koffee Pot, but Northern Quarter punters were puzzled as to how this very casual pizza joint was going to work this far away from Thomas street. Two years later and their patience has paid off.

While trendy bars are swarming around it, Slice feels refreshingly humble in comparison. Opened by a fella who travelled to Rome just to learn the authentic way to make pizza, this joint feels like a Mediterranean neighbourhood bar. You can drink Peroni. You can eat pizza by the slice. You almost expect to look up and see Inter Milan on the telly.

Crispy bases benefit from classic combinations. The buffalo mozzarella, tomato and basil is as delightfully simple as it sounds. For those who love a bit of carb-on-carb action, the mozzarella, potato and rosemary is a taste of authentic Italian peasant pizza. The craziest combo you're likely to find is fig, prosciutto and gorgonzola. Thankfully, the restraint pays off.

It's not just pizza by the slice though – there's a small selection of paninis and calzone and, if you're not completely dough-ed out, there's also a sweet Nutella version of the latter. If the bloat's got you by dessert, there's a decent selection of gelato to choose from.

Many people think of Slice as a take-out joint, but there are plenty of tables inside and once there's a couple of groups filling the place, the atmosphere's not bad. In summer, you'll be hard pushed to grab a seat out front, so get there early when the sun's shining. At less than £3 for a slice, although you might need two – three if you've already had a couple of beers – it's quality you're paying for, so savour every bite. It's still cheaper than the big delivery chains.
Venue name:
Slice
Contact:
Address:
1a Stevenson Square
Northern Quarter
Manchester
M1 1DN