5 pleasurable things to do in Manchester this summer
From dining to dancing, summer in Manchester is chock-full of pleasurable events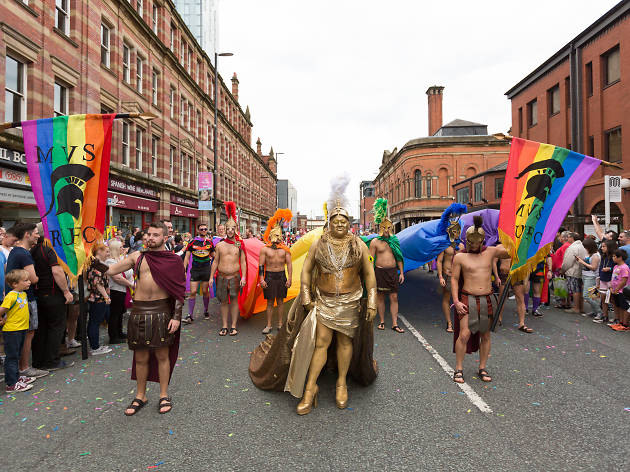 By

Time Out in association with Galaxy
|
Summer is the perfect time to get into your new routine of choosing pleasure – and Manchester is, quite frankly, spoiling you with enjoyable options. From a dreamy cinema screening to yoga in the sunshine, we've picked out five of the city's most pleasurable things to do – culminating in the city's biggest dance party of the year. There's something for everyone, so no excuses: get out there and enjoy it!
Watch 'Clueless' on the big screen
As if! Cher, Dionne, Tai and the gang are back on the big screen and in the dreamiest of settings on July 14. Roll with your homies and head to the Grade II-listed Victoria Baths to revel in all its Edwardian splendour on a lazy summer evening. You'll sit on deckchairs in the (empty, thankfully) swimming pool and watch as Cher wrestles with love, life and friendship. It's way existential – and way pleasurable to boot. More details here.
Manchester Carnival
There aren't many more pleasurable activities than shaking your thing in the streets, surrounded by all the sights and sounds of the carnival. Manchester Carnival kicks off on August 11 in Alexandra Park and there'll be elaborate costumes, infectious beats and delicious treats all weekend long.
Allotment Bar and Restaurant
Take a few minutes to appreciate the soothing nature of, er, nature with lunch at Allotment bar and restaurant. A mouthwatering menu of locally-sourced British cuisine surrounded by calming greenery will help you de-stress and reset amid the hustle of the city. A pleasurable lunchbreak indeed.
Beautiful Yoga
There are many pleasurable benefits to yoga - a calming zen, the feeling of a good stretch, a workout that mostly involves lying down – and you'll feel them even more after a class in the beautiful surroundings of the Whitworth Art Gallery. When the weather is good, you'll take your mats outside into the peaceful Art Garden where you'll be able to completely switch off for an hour.
Turn out for Pride
Manchester is the spiritual home of Pride and its August bank holiday celebrations are not to be missed. Coming together to celebrate LGTBQ+ people and culture, there's fundraising, vigils and huge celebrations all weekend long. A glorious cacophony of fun, the Big Weekend kicks off in the heart of Manchester with huge named entertainment, while the kaleidoscopic parade winds its way through the city on the Saturday. You'll dance yourself silly.