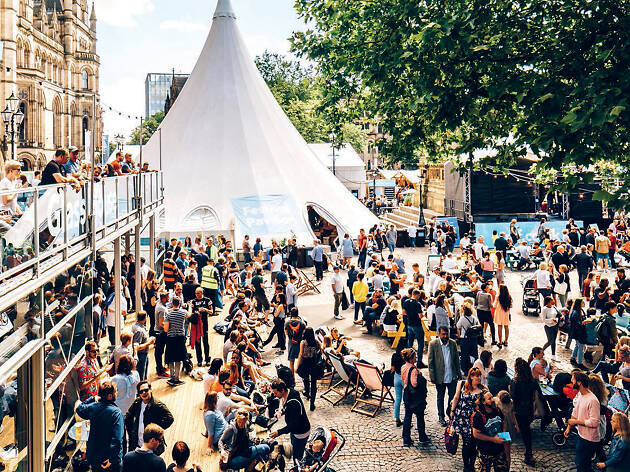 Manchester International Festival is back for 2021
The biennial Manchester International Festival returns in July. Get the lowdown on some of the highlights
The big, beloved, biennial Manchester International Festival is back from July 1 to 18 – and we're really quite excited about it. But the world has changed a lot since the last time we enjoyed MIF in 2019, so what can we expect?

Always one of the highlights in the city's cultural calendar, MIF faced the challenge for 2021 of mounting an event which, in previous years, has seen people flocking to the city in their thousands. How do you plan for that during a global pandemic?

MIF's Artistic Director & Chief Executive, John McGrath says of this year's festival:
'Created with safety and wellbeing at the heart of everything, it is flexible to ever-changing circumstances, and boldly explores both real and digital space.
'We hope MIF21 will provide a time and place to reflect on our world now, to celebrate the differing ways we can be together, and to emphasise, despite all that has happened, the importance of our creative connections – locally and globally.'
The line up is as impressive as ever keeping MIF21 as one of the best things to do in Manchester.
Our top picks are:
Opening ceremony
Big Ben Lying Down with Political Books brings the iconic London clock to the North at Piccadilly Gardens by Argentinian artist Marta Minujin. Big Ben will be covered with 20,000 books about British political history. Meanwhile, over on the other side of the city centre, dance yourself down Deansgate with Boris Charmatz as Sea Change mixes professional and non-professional dancers in a celebration of togetherness.
'All of This Unreal time'
A new film starring Cillian Murphy, written by Max Porter and directed by Aoife McArdle with music by Aaron Dessner, Bryce Dessner and Jon Hopkins, will be presented for its MIF21 world premiere as an immersive installation in surround sound.
Music
Photograph: Edward Mapplethorpe

Always something to look forward to, the MIF music programme does not disappoint for 2021 with a line up including a special one-off concert from the singer-songwriter Arlo Parks who will be performing with musicians from Manchester's Royal Northern College of Music, plus two nights of performances from the incomparable poet, musician and activist Patti Smith.
'The Walk'
Re-enacting the journey of a 9 year old refugee in the form of a giant walking artwork, this major production from Good Chance and Handspring Puppet Company sees Little Amal set off from the Turkish Syrian border in a ceremony during the festival. She'll arrive in Manchester, having walked the journey, later in the year.
'I Love You Too'
South African artist Kemang Wa Lehulere will see the publication of a book of love letters told by over 100 Greater Manchester residents to a team of poets and writers, alongside a new installation in the grand Reading Room of Manchester Central Library.

Further details about work from Akram Khan, Turner Prize winner Laure Prouvost, Tracy Emin, Lemn Sissay will follow, so head to MIF's website to keep up to date.


Manchester International Festival runs from July 1-18 2021. Tickets go on sale on May 20.
www.mif.co.uk
Craving more only-in-Manchester activities?
From dynamic multi-storey music venues providing a platform for the next big thing, to creative cooks transforming neglected neighbourhoods into thriving food hubs, there's a cheeky, independent streak running through this city. And when wasn't there?