Things to do in Manchester today
Check out the day's events, all in one place, and find great things to do today in Manchester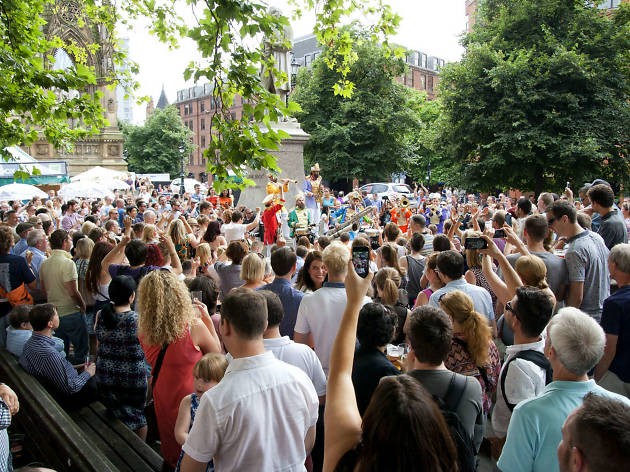 Whether you're looking for inspiration or info, we've rounded-up some of the best things to do in Manchester today. You'll find theatre, art, music and more in our list, so there's plenty to tempt you to get out and about.

If things to do in Manchester today is far too short notice for you, check out our events calendar instead.
Things to do in Manchester today
Ancient herd of fallow deer in a stunning 250 acre park.
Read more
Theatre in Manchester today
The circus group returns with their new production, featuring acrobats, aerial artists and jugglers.
Read more
This truly heart-warming adaptation of Julia Donaldson and Axel Scheffler's new bestselling book is bursting at the seams with Scamp Theatre's inimitable style and promises wit, drama, and wedding bells.
Read more
Art in Manchester today
Curated by renowned documentary photographer Martin Parr, this exhibition explores how international photographers viewed Britain from the 1930s onwards, with works by Henri Cartier-Bresson, Rineke Dijkstra, and Garry Winogrand.
Read more
A performance-installation featuring three-dimensional, living portrait collages, drawings and live music, deconstructing and manipulating familiar images, objects, and sounds to create ambiguous forms.
Read more
A solo show of pen and ink drawings from across a 45-year career, including the Manchester Suite and other studies of the city's Victorian architecture during its first wave of regeneration in the 1980s.
Read more
A portrait exhibition and video installation featuring the founding female members of Manchester's very own Vogue house, The House Of Ghetto. Proudly celebrating black gay culture, the exhibition takes place over two floors with photographic portraits by Cornel Simons on floor one and a video instalation by Amy Watson & Dennis Keighron-Foster on floor two.  
Read more
Barbara Brown was the golden girl of Heal Fabrics in the 1960s and early 1970s. Talent-spotted as a student, her designs for furnishing fabrics are some of the most striking and unusual ever produced in the 20th century and won awards from the Council of Industrial Design. This is the first major solo exhibition of her work in the UK.
Read more
The exhibition, for space, brings together a group of artists who emphasise and consider the exploration and excavation of space through various approaches to drawing. With Anna Barriball, Tom Baskeyfield, Jack Brown, Layla Curtis, Gerry Davies, Hondartza Fraga, Jenny Steele, James Steventon and Simon Woolham.
Read more
Iconic pieces by the fashion designer whose 1960s and 1970s creations were at the forefront of a cultural revolution.
Read more
Animated works from the Manchester-based artist, including the premiere showing of Restlessness, alongside existing works Bucket, Comfort Falls and Everyone Wants Revenge No 2.
Read more
Show more
Gigs and clubs in Manchester today
Celtic-tinged indie-rock from the group, known for hits including Zombie and Linger, in this special acoustic performance.
Read more
Blues, soul and Motown music from Jake and Elwood's famous film, taking you back to 1980 to finish the concert at the Palace ballroom hotel.
Read more
A chance for local artists to perform on a real stage, with appearances by Dook Dootson And The Flightless Birds, Porter And May, Big Society and The Waitress.
Read more
Residents spin 1960s classics, rock'n'roll, psych, Britpop, soul and glam, plus DJ set from Jolan Lewis.
Read more
An experimental variety show, with a range of performers, from the singer-songwriter.
Read more
Dance and electro courtesy of Rob Jones, James The Cat, Neil Craven, and BB & Richie V.
Read more
Techno, electro and minimal house from Sonja Moonear, Barac Anton Fitz, Martin Loose Cuts, Marsland, Flux Groove, Jack Michalski, Samuel Padden and Class Enemy.
Read more
Jazz and funk influences Byron The Aquarius' electronic sound in a live set. Also Taurtollo and Cervo & JVC.
Read more
Show more