Things to do in Manchester today
Check out the day's events, all in one place, and find great things to do today in Manchester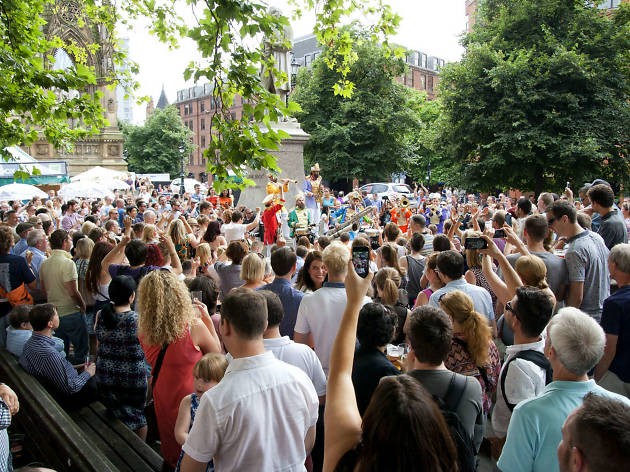 Whether you're looking for inspiration or info, we've rounded-up some of the best things to do in Manchester today. You'll find theatre, art, music and more in our list, so there's plenty to tempt you to get out and about.

If things to do in Manchester today is far too short notice for you, check out our events calendar instead.
Things to do in Manchester today
A look at how fashion survived and even flourished under the strict rules of rationing in war time Britain, examining both men's and women's fashions.
Read more
Theatre in Manchester today
The famous musical with over 20 soul classics performed live on stage including: Night Train, Try A Little Tenderness, River Deep, Mountain High, In The Midnight Hour, Papa Was A Rolling Stone, Save Me, Mustang Sally, I Heard It Through The Grapevine, Thin Line Between Love And Hate, Reach Out, Uptight, Knock On Wood, I Can't Turn You Loose and more.
Read more
The ensemble stages the musical version of the hit comedy film about the transformation of Elle Woods as she tries to pursue her dreams.
Read more
Actors Touring Company, Royal Exchange Theatre and Royal Lyceum Theatre Edinburgh presents the classic play by Aeschylus in a new version by David Greig, in which 50 women leave everything behind to board a boat in North Africa and flee across the Mediterranean. Directed by Ramin Gray.
Read more
Jay Scheib directs a high-octane rock'n'roll musical by Jim Steinman based on Meat Loaf's 1977 album, about a rebellious youth called Strat, who falls in love with the daughter of the despotic leader of a post-cataclysmic city. The songbook includes I'd Do Anything For Love (But I Won't Do That), You Took The Words Right Out of My Mouth (Hot Summer Night), Dead Ringer For Love, It's All Coming Back To Me Now, Two Out Of Three Ain't Bad and the anthemic title track.
Read more
Gigs and clubs in Manchester today
The band plays idiosyncratic indie-folk with world music influences.
Read more
The London-based seven-piece ensemble featuring Joanna Goldsmith-Eteson, Sara Davey, Clare Wheeler, Oliver Griffiths, Jon Smith, Kevin Fox and Edward Randell performs a programme of songs for life's defining moments. Support is Twelfth Day.
Read more
The American singer-songwriter hailing from South Dakota takes to the stage to perform her original fol and indie rock sounds in support of her latest album, Impossible Dream.
Read more