Things to do in Manchester today
Check out the day's events, all in one place, and find great things to do today in Manchester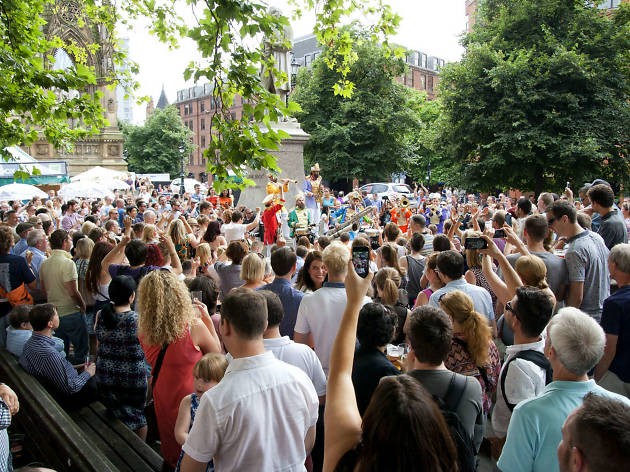 Whether you're looking for inspiration or info, we've rounded-up some of the best things to do in Manchester today. You'll find theatre, art, music and more in our list, so there's plenty to tempt you to get out and about.

If things to do in Manchester today is far too short notice for you, check out our events calendar instead.
Things to do in Manchester today
Housed in a former 18th-century mill owner's home, the gallery displays both functional and decorative clothes and accessories from the 17th century to the present day. Highlights include 20th-century designer items and 18th-century evening wear.
Read more
Theatre in Manchester today
Art in Manchester today
The spacecraft that brought European Space Agency astronaut Tim Peake safely back to Earth following his time on the International Space Station.
Read more
Noor Afshan Mirza and Brad Butler's fiction film installation weaves together conspiracy, gangster, noir, politics, crash theory, fantasy and reality into a disrupted narrative and genre exploration that ignites a gender revolution.
Read more
Explore the works of Pakistani and Indian artists who worked with Victor Musgrave during a 10-year period.
Read more
Documentary photographer Price explores life as a member of the LGBT+ community in Sierra Leone, where homosexuality remains illegal and people face daily persecution for revealing their true identities.
Read more
The artist takes as her theme wrecked ships and their passengers, re-examining human presence, figuration and representations of maritime tragedy throughout history.
Read more
The exhibition highlights the changing landscape of the subcontinent in the 21st century, post-independence and partition.
Read more
A selection of works from the 18th century to modern day chart the cartoon from its pioneers and innovators, right through to artists currently working in graphic novels, comic books and newspapers who are keeping the tradition of pictorial satire alive.
Read more
Show more
Gigs and clubs in Manchester today
The pianist performs Debussy's Clair De Lune; Images Book I & II and La Terrasse Des Audiences Au Clair De Lune, Schumann's Fantasie In C and Beethoven's Sonata, 'Appassionata'.
Read more
Hailing from Stroud, the four-piece perform their punk-rock tunes, led by vocalist and bassist Becky Blomfield.
Read more
The chart-topping singer-songwriter from Essex performs her pop and R&B numbers.
Read more
Resident DJs spin rock tunes by the likes of Pixies, Led Zeppelon, Davie Bowie, Black Sabbath and more.
Read more