Things to do in Manchester today
Check out the day's events, all in one place, and find great things to do today in Manchester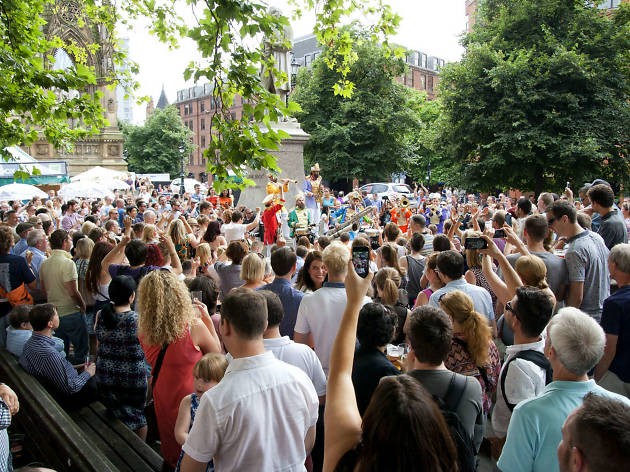 Whether you're looking for inspiration or info, we've rounded-up some of the best things to do in Manchester today. You'll find theatre, art, music and more in our list, so there's plenty to tempt you to get out and about.

If things to do in Manchester today is far too short notice for you, check out our events calendar instead.
Things to do in Manchester today
Waterstones Deansgate is delighted to present an evening with Yaa Gyasi, author of the incredible novel Homegoing.
Read more
Discover the resilience and inventiveness of the Blitz spirit in this tour of the interactive exhibition Horrible Histories: Blitzed Brits.
Read more
The tour, plus talk, describes the experiences of survivors and liberators of Nazi concentration camps.
Read more
A guided tour highlighting the architectural qualities of the museum.
Read more
50 years on from England's golden summer, discover the games, players and stories that made the 1966 World Cup such an iconic tournament.
Read more
A tourist attraction which shows the effect of our actions on the environment in vivid technicolour.
Read more
Literary & Education, Art Workshop.
Read more
A look at how fashion survived and even flourished under the strict rules of rationing in war time Britain, examining both men's and women's fashions.
Read more
Theatre in Manchester today
The 1121 Collective presents an intense drama exploring how facts and fictions are intertwined when a decade long riot starts to encroach into the living room.
Read more
New York City dancer Charity Hope Valentine must choose between her fun-loving past and the simple love of a shy tax accountant in the era-defining musical with a book by Neil Simon, music by Cy Coleman and lyrics by Dorothy Fields. The songbook includes Big Spender, Rhythm Of Life and If My Friends Could See Me Now. Directed by Derek Bond.
Read more
Olivier Award-winning stage adaptation of the acclaimed British film about a spirited 11-year-old boy from County Durham, who dreams of becoming a ballet dancer against the turbulent backdrop of the 1980s miners' strike, with script and lyrics by Lee Hall and music by Elton John. Directed by Stephen Daldry.
Read more
Teenager Christopher, who has Asperger's syndrome, tries to solve the mystery of his neighbour's dead dog but he is ill-prepared for the stresses of the noisy and chaotic outside world in Simon Stephens' Olivier Award-winning adaptation of the novel by Mark Haddon.
Read more
Willy Russell's multi-award-winning comedy about the Liverpudlian hairdresser with a thirst for knowledge who embarks on an Open University degree. Directed by Elizabeth Newman.
Read more
Art in Manchester today
An exhibition of film, sculpture, 2D work, astronomical artefacts, miniature models and diagrams, with works by Iain Andrews, Annie Carpenter, Paul Evans, Hondartza Fraga, Steven Gartside and Eleanor Mulhearn, Matthew Houlding, Manchester Astronomical Society, Monty, Simon O'Sullivan and Claire Tindale.
Read more
A major retrospective of the 20th century printmaker, humanitarian and campaigner, whose eye-catching work considers global issues, makes stark political comment and reflects the horrors of war.
Read more
This exhibition reveals works by the Lancashire-born multidisciplinary artist, amongst others, whose art was shared worldwide via the underground world of low-fi, self-published magazines.
Read more
A selection of works by the legendary pop-artist, focusing on themes of death, politics and identity and featuring Self-Portrait with Skull, Self Portrait Strangulation and The Electric Chairs series.
Read more
Works by of one of the radical originators and innovators of the European tradition of printmaking, who is best known for his ground-breaking collaboration with the Renaissance artist Raphael.
Read more
Works by the British contemporary artist focusing on the mediums of painting, drawing and photography including Eternal Movement commissioned for Sadler's Wells theatre, Beginning or End created using black gesso and ink and Death of Painting, a series of five oil paintings on paper.
Read more
Exhibitions & Art, Drawings/Illustration.
Read more
Show more
Gigs and clubs in Manchester today
The American rock outfit led by Taylor Momsen performs in support of its album Who You Selling For.
Read more
The East London rapper draws on her Caribbean and British heritage as well as music from America and performs raps that have a powerful story to tell.
Read more
A non-stop party of 90s cheesy dance, hip hop, indie, pop and R&B, courtesy of resident DJs.
Read more