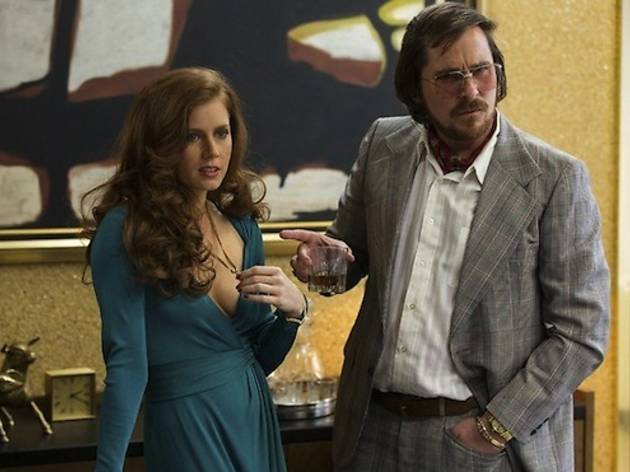 There are certain perfect movie scenes where a song becomes synonymous with the action on screen, to the point where you can't hear Iggy Pop's 'Lust for Life' without imaging Ewan McGregor bolting through Edinburgh, or Air Supply's 'All Out of Love' without Ben Mendelsohn about to explode in a frenzy. Similarly, Wings' 'Live and Let Die' has been taken from its Bond film ghetto and given the setting it deserves: a demented Jennifer Lawrence lip sync.
It's just one of the many glorious scenes in American Hustle, the latest – and finest – film by David O Russell. The plot's OK, as it goes – two con artists are forced to pull off an ambitious job for the FBI, things predictably fall apart – but the joy is in the journey. Christian Bale is gloriously repellent as pudgy, balding laundromat mogul-cum-small time scammer Irving Rosenfeld, Amy Adams is a revelation as his lover/partner/femme fatale Sydney Prosser, and Bradley Cooper revisits the intense smart-man-who's-his-own-worst-enemy persona he perfected for Russell's Silver Linings Playbook as the FBI's Richie Di Maso.
The cartoon '70s Noo Joisey setting is pitch perfect, the period soundtrack killer, the dialogue regularly laugh-out-loud funny and the supporting roles exceptional: Lawrence steals every scene she's in as Rosenfeld's unstable wife, Jeremy Renner actually gets to act in the role of idealistic mayor, Robert De Niro briefly swings by to play yet another Mafia crime boss and Louis CK is understatedly brilliant as DiMaso's exasperated FBI supervisor.
It's long – well over two hours – but there's precious little fat to cut here. This is classic, old-school filmmaking at its best.
Release details
| | |
| --- | --- |
| Rated: | MA |
| Release date: | Thursday December 12 2013 |
| Duration: | 138 mins |
Cast and crew
Director:
David O Russell
Screenwriter:
Eric Warren Singer, David O Russell
Cast:
Jennifer Lawrence
Christian Bale
Amy Adams
Bradley Cooper
Jeremy Renner