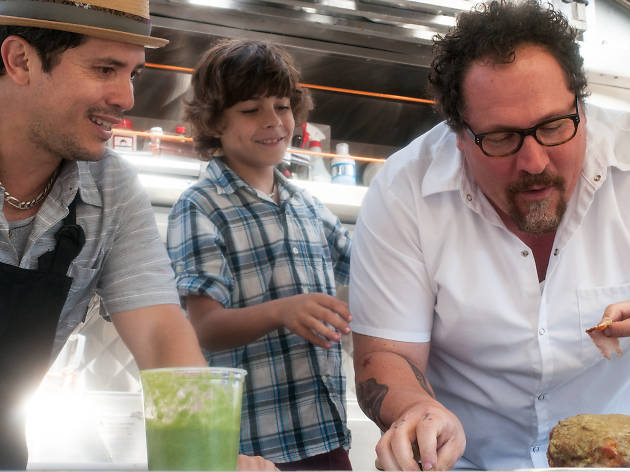 It starts in the kitchen. A pair of meaty hands with faded tattoos on the knuckles unfurls a faded knife roll filled with a set of well-used-but-equally-well-loved Japanese chef's knives. The last time we saw skills this good on the big screen was Ratatouille. At any rate, you can tell this beefed-up and bearded Jon Favreau means business.
This is the story of chef Carl Casper – a once-up-and-comer-made-good-and-got-a-little-comfy. He's a single dad juggling spending time with his son, running his LA restaurant and occasionally boning Scarlett Johansson, the hot Indie restaurant manager. But tonight he's cooking for "the city's most influential food blogger", played by a bloated and dyspeptic-looking Oliver Platt (fun fact – his brother is Adam Platt, New York magazine's restaurant critic). Cut to the inevitable bad online review and a very public restaurant meltdown where Favreau gives a brilliant screaming lecture on chocolate fondant.
He loses his job, and becomes an overnight Twitter sensation (keep an eye out for the deeply tanned Amy Sedaris playing an LA publicist – five minutes of pure gold). An estranged family trip to Miami leads the chef back to his roots, cooking Cuban sandwiches out of a food truck, purchased from a shady Robert Downey, Jr at his most gloriously unhinged. Driving the truck from Miami back to LA, he tries to repair his relationship with his son, teaching him how to cook and how to eat.
Forget Catherine Zeta-Jones' over-the-top haute cuisine in No Reservations. This is convincing food you can almost taste off-screen, thanks to consulting chef Roy Choi – the man behind the hugely popular Kogi food trucks in LA. The crunch of a perfectly golden three-cheese fried sandwich. Texan barbecued brisket – blackened on the outside and rosy in the middle, sliced with a pocketknife out the back of a rundown diner. The explosion of icing sugar as Casper's son first bites into a beignet in New Orleans. ("You never get to eat your first beignet again.") One bite of a Cuban sandwich at an old-school Miami nightclub. You get the impression Favreau really likes food.
Chef is a huge step away from his last few films -–the Iron Man franchise, 2011's delightful stinker, Cowboys and Aliens – and while there might be a few 'he's getting back to his Swingers roots' comparisons, it's more than that. This is a funny movie with texture. It looks at the way social media changes people's attitudes to eating out and more importantly, bridges the gap between what's online and the real life repercussions. It's a smart film made with a light touch and not a single explosion. Could Favreau finally have grown up?
Release details
| | |
| --- | --- |
| Rated: | NA |
| Release date: | Thursday May 8 2014 |
| Duration: | 115 mins |
Cast and crew
Director:
Jon Favreau
Screenwriter:
Jon Favreau
Cast:
Jon Favreau
Scarlett Johansson
Sofía Vergara
Dustin Hoffman
John Leguizamo
Oliver Platt