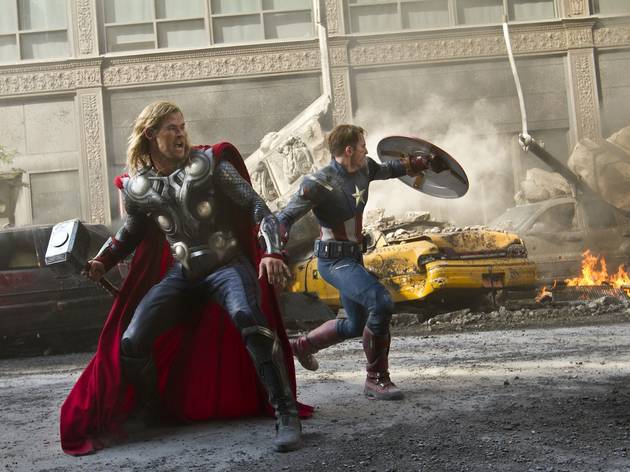 No, it's not the campy British crime-fighting team from the swinging '60s – it's the coming together of six-odd Marvel superheroes for a battle royale against Asgard-born baddie Loki (the suddenly everywhere Hiddleston). Mind you, when Tony Stark (Downey Jr) and Pepper Potts (Gwyneth Paltrow) enter the frame, popping the champagne and amping up the sexual tension, it's as if Steed and Emma Peel have gatecrashed the costume party.
The beauty of Marvel's recent efforts like Iron Man and Thor is that they've displayed a level of wit you'd never find in the old comic books. Marvel and Paramount must have known all along that writer-director Joss Whedon would pick up the comedic balls of the different franchises and hit them all out of the park with ease. Working on the multi-strand, tongue-in-cheek narratives of Buffy and Angel has prepared him well for the structural challenges of an all-action flick with a surfeit of heroes, and when they're not battling an army of monsters from across the universe these Avengers are working out their issues with each other in delicious scenes of banter.
Brought together by Nick Fury (Jackson), they include slippery spy Black Widow (Johansson), Hulk (Ruffalo, surpassing Bana and Norton's shots at the role) and Captain America (Evans), whose sudden appearance 70 years after World War II is hurriedly explained by some trapped-in-ice flashbacks. The fact that he's missed the last 70 years of pop culture puts the Captain on the back foot in this company: when someone makes a Wizard of Oz joke, he's delighted to have understood the reference.
Whedon keeps the whole thing aloft with pizzazz – you expect it to crash to earth like Fury's flying aircraft carrier, but somehow it never does. Whenever a cliché threatens to rear its head, Whedon smashes it with a gag, verbal or visual. Iron Man gets the lion's share of zingers but the remainder are divvied up democratically, while the Hulk's hitherto unexploited talent for slapstick is enough to make Shrek give up the ghost. Fanboys the world over get an avatar in the form of Agent Coulsen (Clark Gregg), who can't help but ask Captain America to sign his trading cards. And who can blame him? Geeking out has rarely been so much fun.
Release details
| | |
| --- | --- |
| Rated: | M |
| Release date: | Wednesday April 25 2012 |
| Duration: | 143 mins |
Cast and crew
Director:
Joss Whedon
Screenwriter:
Joss Whedon
Cast:
Robert Downey Jr.
Chris Evans
Mark Ruffalo
Chris Hemsworth
Scarlett Johansson
Jeremy Renner
Tom Hiddleston
Clark Gregg