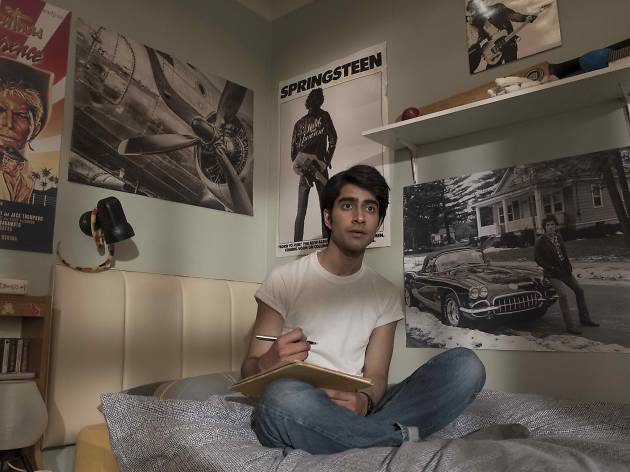 Time Out says
To his own surprise, a British-Pakistani teen finds himself born to run in a deliriously evoked 1980s.
Review by Phil de Semlyen
What director Gurinder Chadha's Bend It Like Beckham (2002) did for soccer and female empowerment stories, her effervescent latest does for Springsteen. And Sony Walkmans. And double denim.
For viewers of a certain age—e.g., if you ever owned a Level 42 cassette—there's loads of easy '80s nostalgia to feast on in Blinded by the Light's high-school corridors, crammed with Wham! boys and Salt-N-Pepa girls. It's a coming-of-age movie about connecting with music in a way that finds you a tribe and, temporarily, a respite from your worries—even when they're as grave as the racist thug stalking you from across the courtyard.
The film is set in a specific Britain rife with tension: the town of Luton during the National Front–stained end of Margaret Thatcher's reign, marked by mass unemployment. But Chadha gives her visuals a Hollywood sheen and a Bruce-heavy soundtrack to banish the minor-key moments that come in the form of jarring verbal abuse and family meltdowns. Our hero, Javed (the fresh-faced Viveik Kalra), is a British-Pakistani teen who writes poetry, dreams of escape and gets his spirits crushed daily by his ultra-strict dad. But when his new school friend Roops (Aaron Phagura) sneaks him a couple of Springsteen tapes, salvation arrives in the form of some uncannily relatable blue-collar anthems. "Bruce knows everything I've ever felt," marvels Javed, quickly moving on to posters, T-shirts and speaking truth to power. (Springsteen lends 12 songs to the soundtrack, no doubt due to the script's message of personal awakening.)
Based on a 2007 memoir by journalist Sarfraz Manzoor (who also cowrote the script), Blinded by the Light is peppered with the kind of offbeat details that can only be autobiographical. Javed's sister chops onions in swimming goggles; the clan gathers in a ritual of push-starting Dad's old car to life. Javed's musical epiphany comes during England's Great Storm of 1987 (an actual meteorological event), which has him dancing and singing through the rain, lost in the Boss's music. With the lyrics pinwheeling across the screen like diary entries come to life, the scene captures that exhilarating eureka moment we've all experienced. Like the movie itself, it's defiantly cheesy and very hard to resist.
Details
Release details
Rated:
PG-13
Release date:
Friday August 16 2019
Duration:
117 mins
Cast and crew
Director:
Gurinder Chadha
Screenwriter:
Gurinder Chadha, Sarfraz Manzoor, Paul Mayeda Berges
Cast:
Hayley Atwell
Kulvinder Ghir
Viveik Kalra

Users say