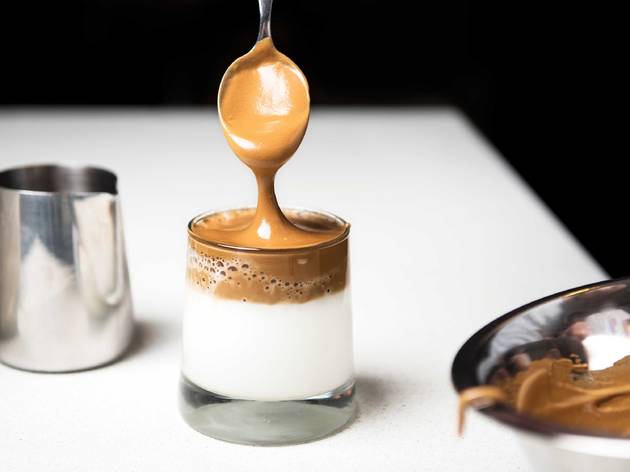 These are the most-Googled recipes on the internet right now
Surprisingly, bread doesn't take the #1 spot for the most popular searches for recipes on Google
Posted: Thursday May 28 2020, 3:30p.m.
Since the world went into lockdown, that's left a lot of people turning to either ordering delivery or revisiting their home kitchens with renewed interest. Even as countries around the world begin to lift their restrictions, many continue to look for recipes. So what recipes are people looking for right now?
That question's brought the coupon website RetailMeNot and the data trends provider SEMRush to put together a top ten list of which recipes people are googling right now. After tracking and analyzing Google search volumes, these are the things people are the most interested in trying out at home.
View this post on Instagram
A drink that went viral on TikTok, whipped coffee—also known as Dalgona Coffee—is a beverage made by whipping equal parts instant coffee powder with sugar and hot water until it becomes creamy, and that concoction is then added to cold or hot milk. Inspired by a South Korean candy, the whipping action tends to require some upper body strength from home cooks.
View this post on Instagram
Who doesn't like a freshly-baked loaf of bread? The desire to bake bread seemed to almost break the internet (sorry, Kim) and caused a lot of shelves of flour in grocery stores to go ransacked. It's good for sandwiches, it's good when it's toasted, it's easy to freeze and reheat—really, who wouldn't want try their hand at something so time-intensive and rewarding when you're cooped up at home?
View this post on Instagram
The fermentation process involved in sourdough bread makes it even more of a lengthy practice. Making a starter from scratch at home can take upwards of a week or two to get some kind of tangy taste going, but once that's added to flour and water and kneaded and baked? The taste is worth it. Just slice a piece, lay on some butter and go to town
View this post on Instagram
This is the last time we'll bring up bread, we swear: Banana bread's a great way to use up your aging bananas. Just throw them into the freezer before they go bad and use them when the time is right. Once you have your batter, you have the option to add in all kinds of nuts, chocolate chip cookies, berries and more.
View this post on Instagram
The baking trend in people's searches continues. These go by many names around the world, but each one amounts to the same thing: Soft spirals of baked dough that are best when they're fresh out of the oven and covered with either a simple vanilla sauce or cream cheese.
View this post on Instagram
Are they the same thing as cinnamon rolls? Some would like to think so, but others believe the distinguishing factor in cinnamon buns (or sticky buns) are that they are baked with a caramel glaze and get paired with crunchy pecans or walnuts. Bonus points if those nuts get deviled before they're added on.
View this post on Instagram
While it's easy to order a pizza, a lot of people have been taking to the internet to find out how to make their own. With a couple of simple pantry ingredients, it only requires a bit more effort and patience to whipe up your own dough and dress it however you like, and bake it in the oven or cook it off in a frying pan.
View this post on Instagram
Everyone thinks they've got the secret recipe to chocolate chip cookies, but really, the perfect cookie is up for debate. Some like them soft, some like them crunchy, some prefer chocolate chunks over chocolate chips. Whichever way you like them, you'll probably be eating more than one once they come hot out of the oven.
View this post on Instagram
For lovers of chocolate, brownies are an essential dessert. Easy to make and easy to bake, they can be made as chocolate-y as you like. Top marks go to anyone who manages to hold off on eating them long enough to make some whipped cream to put on top, but a scoop of vanilla ice cream works as well.
View this post on Instagram
There's no doubt that many people are longing for the moment when they can sit in a diner and dig into some apple pie. It's interesting to see that people are searching for one of the most laborious things to bake—making the crust, making the filling, considering putting a lattice on top—but here we are.
Most popular on Time Out
- This Canadian grocery store is experimenting with UV light to disinfect groceries at checkout

- A new drive-in movie theatre pop-up is opening in Vaudreuil-Dorion, and admission is $10
- Marijuana could prevent catching COVID-19, according to one Canadian university's studies
- Here's where Montreal is adding 327km of bike and pedestrian paths to the city
- Where to buy face masks in Montreal
Share the story