After the sold-out dinner party with Paul Toussaint, Time Out Market Montréal is bringing back its Chef's Talk series with chef Christian Ventura for one night only on March 29.
Over three courses and drink pairings, the chef will discuss his career and huge, plant-based impact on Montreal's restaurant scene: Beginning with a cocktail and a conversation with Ariane Parent, a leading member of the vegan community, Ventura will be serving three meticulous dishes that are demonstrative of his mastery of vegan food, from his Mexican roots to his work in sushi restaurants that spurred the creation of the popular Sushi Momo restaurant.
Dine out and listen in to the chef's story
Known for his impact on vegan cuisine in Montreal, chef Ventura's made himself known through sheer determination, curiosity and a self-taught education—and that's saying a lot when considering he's been a vegan for only the past decade.
It all started with a choice he made following his yoga practice. "Around 2012, I signed up for a yoga class with Bram Levinson at his yoga studio in the Old Port. It was a revelation for me," the chef told Time Out in a 2020 interview. "I enjoyed practicing yoga so much that I practically became an addict. I used to practice 7 times per week... I went to multiple yoga retirements in Bali, India, New York, Greece, and Thailand."
That soon led to his work in the kitchen. "Eventually, one of my yoga teachers knew that I worked in a traditional fish sushi restaurant, and she kept asking me to make vegan sushi for her. (That's when) I started experimenting," which led to the chef opening Sushi Momo at the age of 28, the first plant-based sushi restaurant in Canada. He's only moved locations in the city to acquire bigger spaces to keep up with demand.
Ventura is not only a talented plant-based chef, but an ambitious entrepreneur as well. After founding Sushi Momo, he decided to reconnect with food from his childhood with two restaurants: Casa Kaizen and Nopalito, two neighboring culinary establishments in the Plateau, one Japanese-Mexican and the other specializing in Mexican tortas inspired by chef's hometown in Guanajuato City.
Eager to share his passion with true lovers of good food and always in pursuit of innovation, chef Ventura aims to continue fueling the vegan revolution in Quebec, one bite at a time.
"When I was a kid, I was always kind of curious about food," chef Ventura explained. "However, my dad never supported the idea of me going to culinary school. He said It wasn't worth it, that I needed a "serious" school degree.
"Fortunately, I didn't listen to him."
What's on the menu
First course
Jicama and coconut carpaccio, coriander-oba ponzu sauce
& A Yuzu No Hana (mezcal, St-Germain, jalapeno, lemon juice, yuzu syrup, lemon bitters)
Second course
Duo of mushrooms infladita and kimchi salmon nori taco
& Xinomavro Jeunes Vignes (Domaine Thymiopoulos, Xinomavro, Naoussa - Greece)
Third course
Matcha-yuzu arroz con leche, kinako, meringue
& Kozaemon Yuzushu (Nakashima Jōzō, Japan)
When is it and where you can get tickets
The event is taking place on March 29, with doors opening at 5:30 p.m. for pre-drinks, and the event running from 6 p.m. to 8:30 p.m.
Tickets are $70 plus taxes.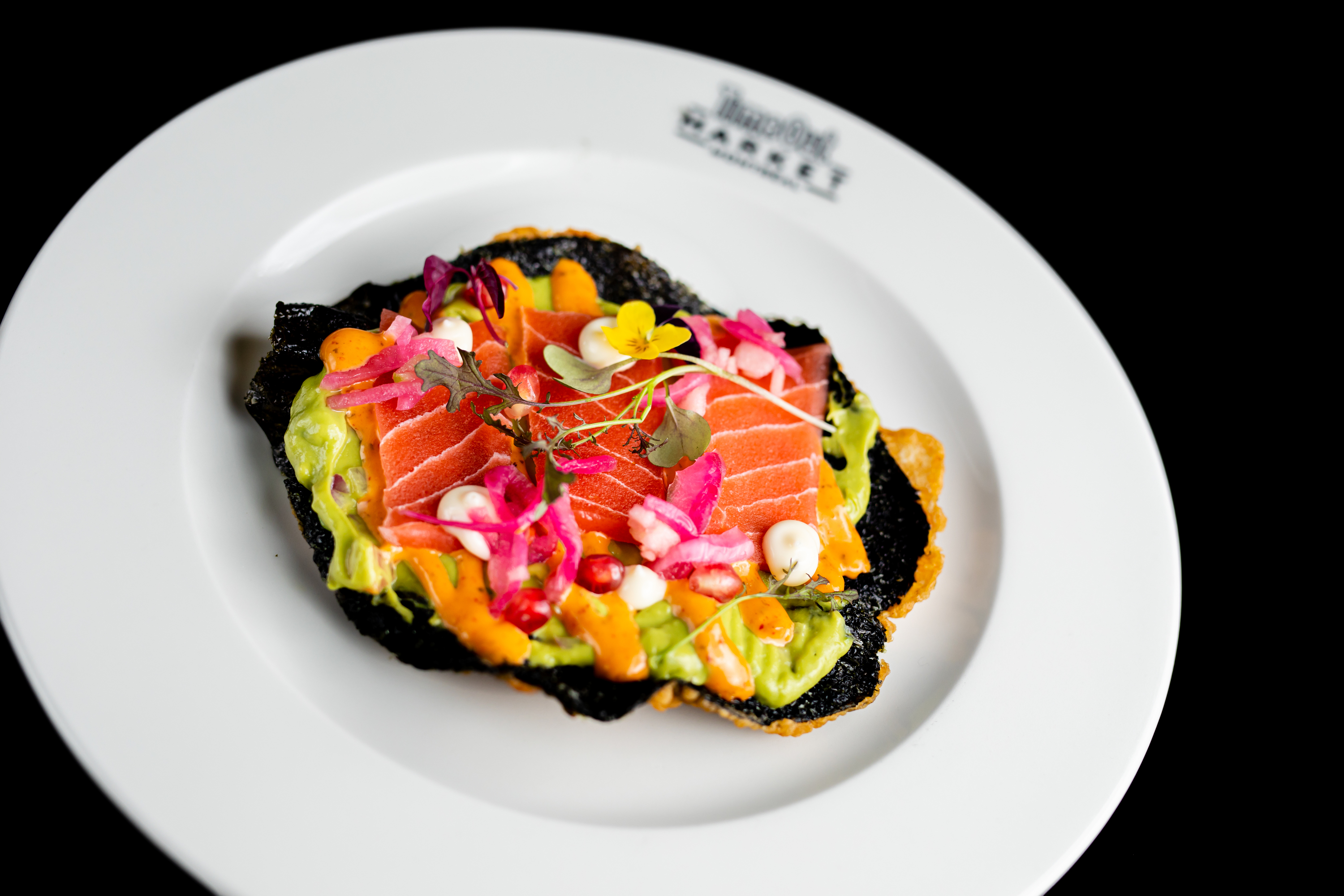 The second Parole de Chef event at Time Out Market Montréal with chef Christian Ventura will take place on March 29 from 5:30 p.m. to 8:30 p.m.; tickets to the event can be purchased here. Note that this event will take place only in English.