We need to talk about the Verdun-based ice cream and pastry shop Alice & Theo (3870 Wellington), mostly because we haven't seen it spoken of yet: Our latest obsession, it's doing some of the best desserts for delivery in the city right now.
Originally planning to open in February 2020, when it was —like so many other businesses opening at that time—looking optimistically to being a new business in the city, let alone a fresh spot for ice cream in Verdun along with a surprising menu for small spot. Run by two families and named after the youngest children, the pandemic delayed the shop's official opening until August 13, 2020.
We can confirm it's worth an order for delivery: Savory (think rosemary and cheese) and sweet (honey and lavender and walnut) cookies for example, but always coming in an array of new tastes; mille-feuille and honey cakes; cream puff choux pastries filled with flavours like matcha, blueberry, dark chocolate and more by the box; St. Honoré cake available by special order; fresh ice cream—all made by chef Oleg Reznikov, who's cooked at restaurants like Toqué! and Vallier Bistro before acting as chef of X.O. Restaurant (now known as JAMES) at Hotel Le St-James in Old Montreal.
We want to grow together with our clients, continue to innovate and create new flavors, and through them, bring happiness to all who come to our store.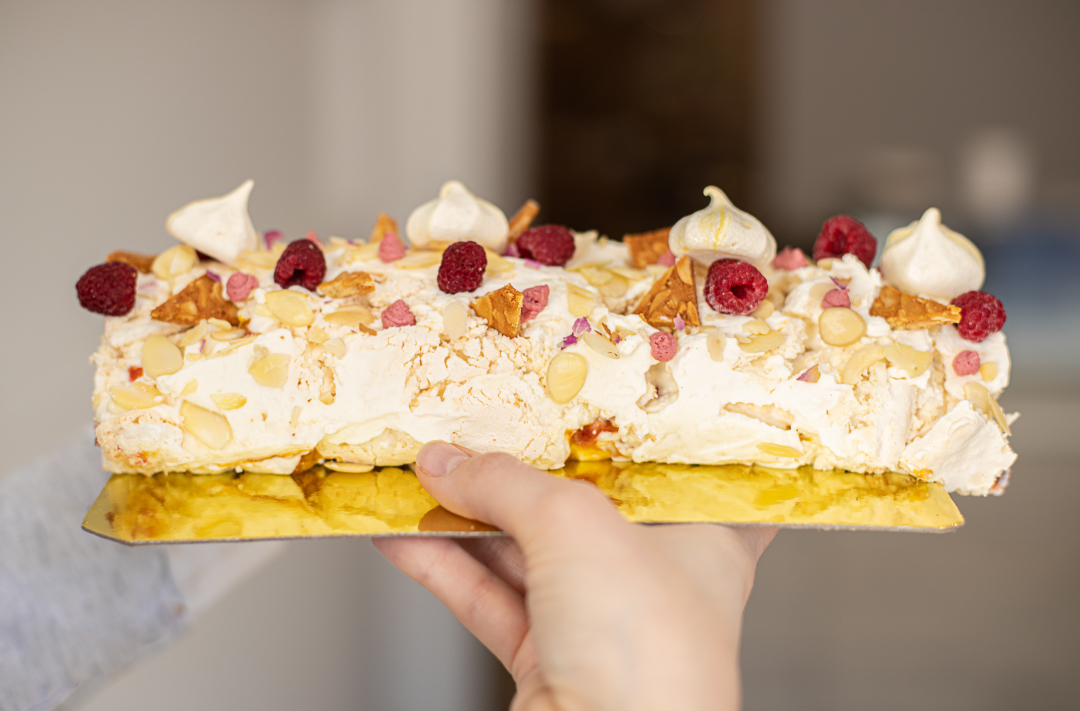 "The idea was to offer high quality products to an audience who would appreciate the extra effort in sourcing the best ingredients and in creating the final product," the owners told Time Out Montreal. "A promise was made, that we will strive towards perfection for our creations. We are about finding the 'perfect' state for all our products."
"You're as good as your suppliers," the owners said how they create their products. "Our chef tries to get the best of what is out there," from buying vanilla beans from a small Madagascar company that grows its own vanilla to its Japanese green Matcha from a small family company in Montreal that imports directly from Japan.
Seeing promise in Verdun way before we thought it numbered among the world's coolest neighbourhoods, the pastry and ice cream shop is largely supported by its neighbours right now. "The response from our clients was and is tremendous! It exceeded our expectations how much our customers appreciated our creations," they explained when asked about the shop's reception with Montrealers.
"We want to grow together with our clients," they went on to say. "Continue to innovate and create new flavors, and through them, bring happiness to all who come to our store."
Alice & Theo is located at 3870 Wellington, and is available for delivery via Uber Eats, DoorDash, Funtuang and SkipTheDishes.
We've spent a lot of time focusing on the latest restaurant openings in Montreal, so we want to give some time and attention to spots that go under the radar. If you want to elect a restaurant, bar, café or any other business to get some attention, send an email to Time Out Montreal.
The latest from Time Out Montréal
- Downtown Montreal's Japanese omakase dining theatre Okeya Kyujiro opens this Friday (PHOTOS)

- Montreal's Igloofest 2021 will be the world's coldest virtual festival, and it's completely free

- Quebec's upcoming second complete lockdown for Montreal could have an 8PM curfew
- Where to find all 26 of Montreal's winter relaxation stations from local designers, architects

- There are plans to open a free illuminated winter playground next week south of Montreal