If you're getting tired of reading how the pandemic has completely changed the face of the restaurant industry, then tough shit, stop reading. If you're still reading, then rest assured that we're not here to recap how prolonged closures and being forced to do takeout and delivery are acts of slow bloodletting.
Instead, we're going to talk about Chef Tigretón, the man behind La Croqueteria, the first and—according to the chef—only Spanish croqueteria of its kind in Canada. Located on Park Avenue in the Mile End, the shop takes on the old adage "do one thing and do it well" adage and delivers, serving more than three dozen varieties.
This is the kind of gastronomy I'm attracted to. Zero waste. What you killed or garden, you cook it from nose to tail and from root to leaf.
Influenced by traditional Catalan cooking, especially between the Empordà and Pyrenean regional cuisine—meaning lots of rice, stews & surf & turf—"I wanted to show the best out of such a humble product," he says. "Croquetas were always inspired by recycling leftovers, and I have always been a fan of traditional cooking.
Back home, where I was born, my father used to kill two pigs a year (among other animals and crops, of course). Now, for one family plus a small village restaurant? That's recycling! This is the kind of gastronomy I'm attracted to. Zero waste. What you killed or crop, you cook it from nose to tail and from root to leaf."
View this post on Instagram
It's a steady mono product model, one that's provided the chef with room to take on another similar project: OMLT, a shop specializing in Spanish tortillas (or Spanish omelettes, depending on who you ask).
"It's been my philosophy from the start," says Tigretón. "I never understood how a menu can contain up to 30 items. I don't know any chef in the world who can perform 30 different dishes to perfection in one evening."
The dish, one of the most popular in Spain, consists of only 4 ingredients (not counting seasoning to taste): Potatoes, onions, eggs and olive oil. Since it's difficult to hide the freshness of any of the ingredients, the chef uses potatoes and onions from a local farm, organic eggs and olive oil from Seville. "It's very difficult to find a tortilla made à la minute in Montreal," he says. "We ask the customer how they want it done (runny or well-done), then we serve it directly, still crackling."
With that kind of focus with a singular product, there's quality and freshness in the product, and it helps with inventory management and losses.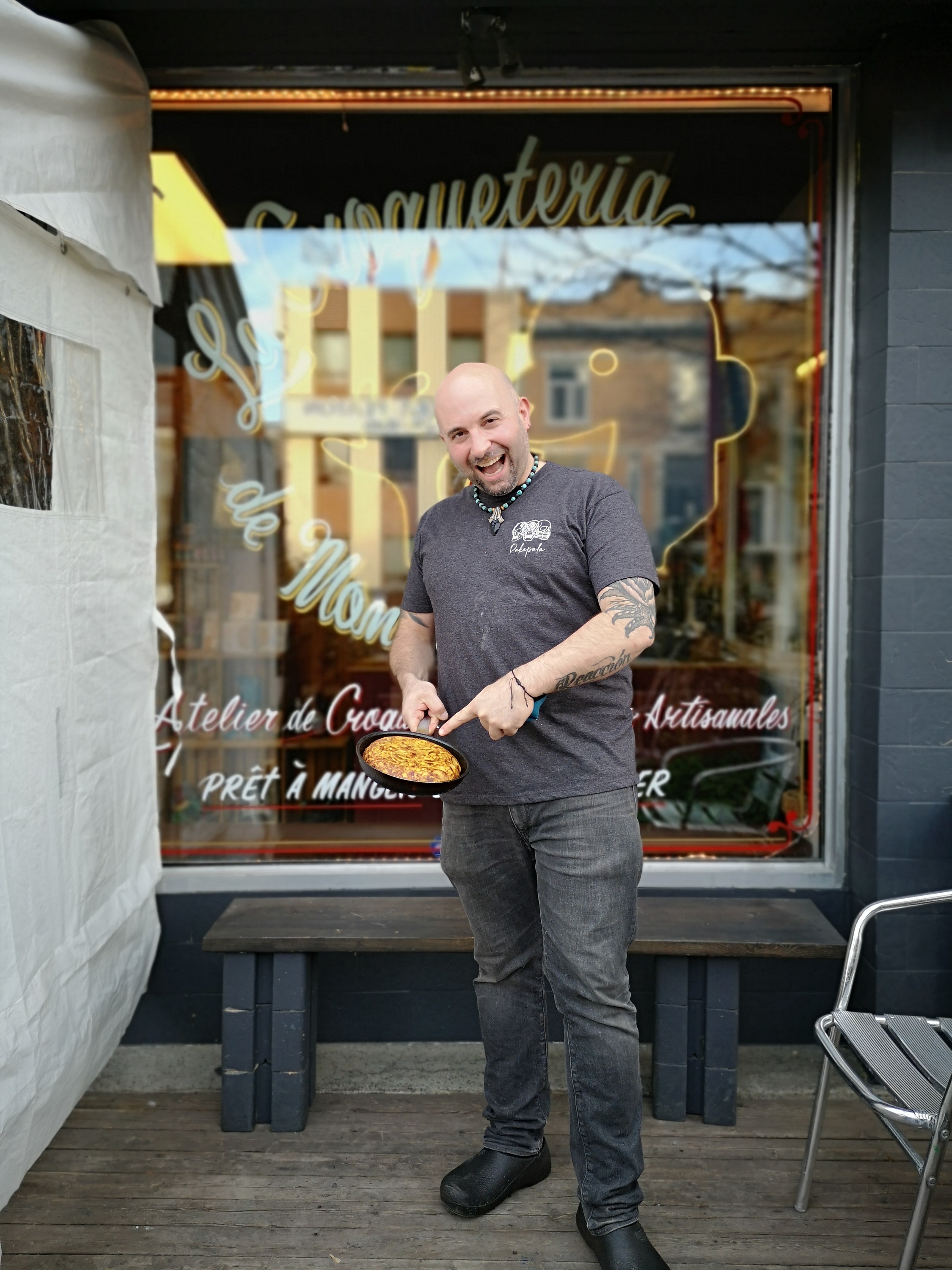 Tigretón has been working in the hospitality industry since 1992. "(I was) born and raised in a restaurant, among other "schools"; my first job was at a hotel, in the summer at the age of 12, making ice-cream and coffee after dinner shifts. I fell in love right away," the chef explains. "My father used to hate it since he invested a lot of money on my education and held higher expectations for my future."
While cooking in cities like Madrid, Bilbao, London or New York taught the chef to embrace different styles, he kept coming back to old and familiar projects, starting with his croquetas recipes. The idea first came up in London of 2004, according to the chef, but it lay dormant until 2014 when a friend gave him the idea of selling them online.
"Hotels, bars, pubs, restaurants, catering companies. From Nacarat in the Queen Elizabeth to Grumman '78 or Pub Saint Pierre in the Old Port...before the pandemic, 95% of the croquetas in Montreal were coming from my kitchen," Tigretón says. "Then COVID happened and we lost all our clients in one shot," and he found himself innovating to keep up.
The menu for croquetas is huge, but striaghtforward. "We're a small team running a small place, designed to maximize production on a six-day schedule with a minimum of 68 hours in weekly operation. It's a lot of hours and labour," Tigretón explains.
Now, with OMLT, he'll continue to test out his methods in mono product kitchens.
The latest from Time Out Montréal
- The MasterChef Season 8 winner has opened Le Mariachi, serving vegan Californian comfort food

- New Vietnamese cantine Dat Aliis opens in Little Italy with fresh takes on classics
- Hochelaga's new microbrewery Mutoïde has takeout beer to get us through the rest of 2020

- Free parking across the island of Montreal begins tomorrow, lasting until December 31

- Bar Le Ritz PDB will not have to pay the fine for a noise complaint lodged in 2019