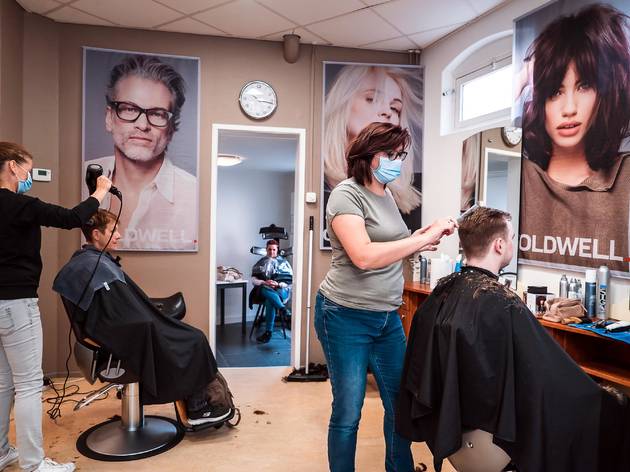 When will hair salons and barbers reopen in Montreal? On June 15
Barbers, hair salons and body care businesses are reopening in Montreal, but the setup is going to look different.
UPDATE: In his press conference on May 29, premier François Legault announced that hair salons, barbershops, estheticians, tattoo and body piercing shops will reopen in Montreal on June 15.
Le 15 juin, ce sera la réouverture graduelle des services de soins esthétiques et personnels dans le Grand Montréal et dans la MRC de Joliette.

Une bonne nouvelle, mais si on veut continuer d'avancer dans la bonne direction, il faut continuer de suivre les consignes sanitaires. pic.twitter.com/D9zzWewT2f

— François Legault (@francoislegault) May 29, 2020
On May 20, the government of Quebec announced that the province will once again be able to access private healthcare on June 1. The only exceptions were this city and Joliette, so when will salons, barbers and other forms of body care reopen in Montreal?
Once they're made available elsewhere in the province on Monday, June 1, a full range of services will be available to anyone, provided they show no signs of the virus. That list includes anything from dental care, optometry, physiotherapy, osteopathy, nutrtionists, hairdressing and esthetic services—heck, even animal grooming will be available—but Montreal will have to wait until June 15.
While anyone whose hair has grown too long or their roots are showing can enjoy getting trims and touch-ups, if you're in the greater Montreal area, you're out of luck until further notice—but that doesn't mean we can't get a sense of what it will be like when these services are available. Currently recommendations include measures like:
- Limiting the number of clients in a business at one time.
- Use of masks, visors, gloves, jackets, antibacterial hand soaps, and sterilizers.
- Installing plexiglass for protective measures.
- Reviewing the organization of a workspace to uphold social distancing.
- Clients will likely—space providing—have to wait outside, and when ready, they'll be invited in to start being washed, prepped.
- Prices may go up to coincide with increased protective costs for businesses.
- Some manicure and pedicure businesses are requiring disposable nail kits to be purchased that include new files, buffer and cuticle cutters and so forth.
- Spas, among all these businesses, likely won't be up and running.
"The full reopening of private health care offices and personal and beauty care clinics is a step that was expected. Our priority remains that this recovery takes place in complete safety, both for the health of our workers and that of their customers," said Minister of Health and Social Services Danielle McCann in a release on May 20.
That's why the government, CNESST (the comission for workplace safety) and the office of Public Health have put together tool kits for all business that fall under the umbrella of body care—oral care, therapeutic care, animal grooming and the personal care and aesthetics sector—in the province.
As it stands, anyone with symptoms including but not limited to fever, cough, sore throat, difficulty breathing or a loss of taste and smell shouldn't be going out to get a pedicure or get cavities checked. Anyone who does is advised to postpone their appointment and go into solitary confinement for 14 days; if and when they do resume their appointment, "they must not have had a fever for at least 48 hours, nor have symptoms for at least 24 hours," the release from May 20 reads.