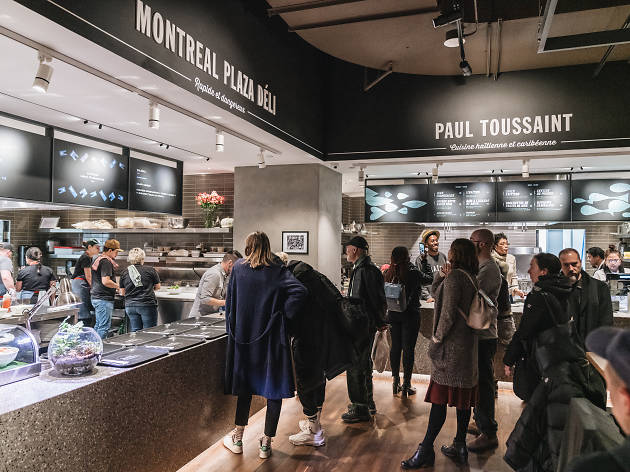 Your guide to the food and drink at Time Out Market Montréal – and how to order
Check out the eateries now open at Time Out Market Montréal, plus info on how to order from the best chefs in the city
Located in the Centre Eaton de Montréal, Time Out Market Montréal is 40,000-square-foot culinary and cultural destination, smack dab in the heart of Downtown Montréal. Inside this expansive space (sporting a massive skylight at its centre, natch), you'll find a handpicked selection of restaurants and chefs by the editorial staff at Time Out Montréal. It's got every base covered, serving healthful vegan, vegetarian and gluten-free options alongside mouthwatering local classic dishes that include poutine, French pastries, Vietnamese pho and bahn mi, juicy burgers, and a whole lot more. It's got plenty to satisfy sparrow-like snackers as well, like heaping plates of oysters to enjoy with friends during a 5 à 7 in a bar section pouring of top shelf cocktails, pints from Québec microbreweries and an international range of wines.
There's a lot to take in, so take your time browsing the eateries of Time Out Market Montréal. Clicking on any one of these stellar names and concepts will give you more information about them, as well as a chance to check out their menus available at the market. You should note that specials will occur and are bound to change—we don't want to stem the creativity of these fine names in any way!—so you should pay visits to this culinary mecca now and then to see what new, fresh dishes are available.
Time Out Market Montréal has also put in a lot of safety precautions and new systems like limited seating capacity, enhanced air circulation and filtration, sanitization stations for customers, a dedicated cleaning staff and more to help Montrealers enjoy the best possible dining experience.
There's also a new ordering system for dining in, takeout and delivery via Doordash at the market: Find out how to order at Time Out Market Montréal here.