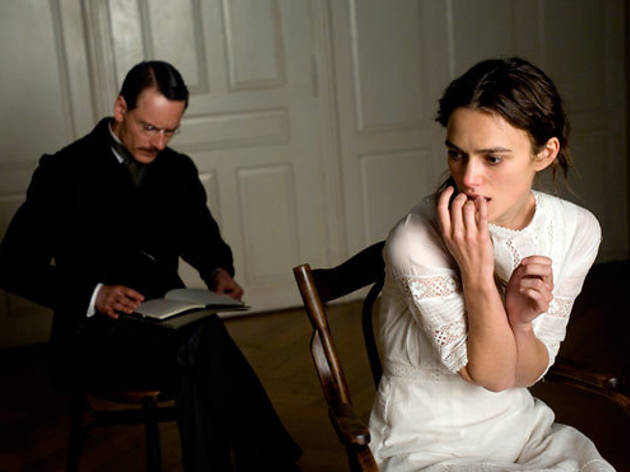 Time Out says
In 2007, David Cronenberg made a darkly comic short called "At the Suicide of the Last Jew in the World in the Last Cinema in the World"---the gray-haired director played the title character himself, pinned by a news camera in a bathroom while he fondles a gun. Ignore this four-minute satire at your peril (it's on YouTube): Cronenberg was finding a new angle on his body-horror preoccupations, the strangeness now rooted in ethno-religious otherness. With A Dangerous Method, set at the turn-of-the 20th-century dawn of "psych-analysis," he furthers this exploration, as visionary cigar-chomper Sigmund Freud (Mortensen) struggles with goyish disciple Carl Jung (Fassbender), while the mental health of the latter's patient-lover, Sabina Spielrein (Knightley), hangs in the balance.
This isn't your typical film about therapy, nor a quaint period piece. Rather, it's about the forceful invasion of minds (as was Scanners), and their rebuilding by those who presume to know better. Knightley, in a showstoppingly bizarre performance, writhes with anguish while her doctors nod and discuss the implications of treatment. If the movie falls just shy of our highest mark, this is because Cronenberg is tamping down on his usually naturalistic performances---everything feels vaguely mad-scientist-ish. He must have meant it; the movie is poised exactly on the frontier where fans want this adventurous filmmaker to be, even if he's still working out his issues.
Follow Joshua Rothkopf on Twitter: @joshrothkopf
Read our interview with Viggo Mortensen!
Watch the trailer
Details
Release details
Cast and crew