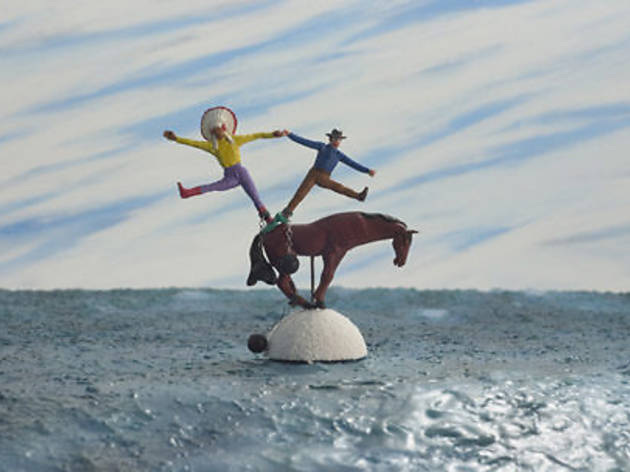 Time Out says
Belgians are perfectly capable of being silly—look at Gargamel or Jean-Claude Van Damme. But to see them produce the kind of aggressively zany animation that we Americans gorge ourselves on is somehow disappointing. A Town Called Panic is playing at Film Forum because it has French voices doing the yelling and squealing. That might be justification enough for art-house fans. The stop-motion work, intentionally crude, is closer to Rankin-Bass than Wallace & Gromit or Wes Anderson's recent Fantastic Mr. Fox; all of those other examples are more sophisticated in terms of content and psychology.
A toy cowboy and Indian (voiced by cocreator Aubier and Ellison), often seen standing on their own fixed pedestals, scheme schemes in side-by-side beds like a pair of preteen brothers. Their father figure, of sorts, is a horse. Once you get over the droll joke of seeing an equine Web surfer wearing a bathrobe and sipping his morning coffee, the movie settles into a shrill groove from which it never escapes. Fans of 2007's The Duchess of Langeais will be glad to hear Jeanne Balibar do her best sexy voice, as a local piano teacher with the hots for the horse. (She's a horse with long hair.) Even this brief running time, though, seems too generous.—Joshua Rothkopf
Now playing; Film Forum.
Watch the trailer
Details
Release details
Cast and crew