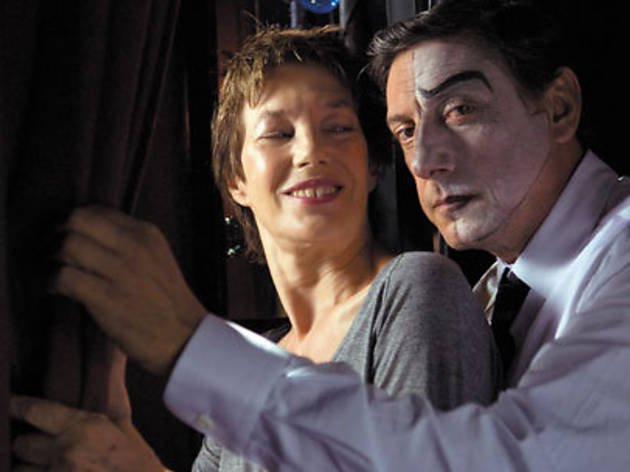 Time Out says
Click #3 for a 3-D image (3-D glasses required).
Do we give a pass to the revered Jacques Rivette—he of the staggeringly creative Celine and Julie Go Boating (1974)—for his latest, a sluggish bit of whimsy? Kinder hearts might prevail, as they did at last year's New York Film Festival, where the new movie secured a berth. But there's insult in such pats on the back, especially when Rivette only three years ago blew the doors off with 2007's crackling psychodrama The Duchess of Langeais. Age does not hinder this 82-year-old artist, only the occasional clichd idea and—let's face it—a raft of staunch defenders prepared to celebrate anything.
Slender and insubstantial, Around a Small Mountain takes place mainly in a single-tent circus, where clowns enact a dull routine involving dinner plates and a gun. The sparse audience, which we see only rarely, is not impressed; should we be, though? Just as you're straining for the metaphor (the demise of local entertainment? the general unfunniness of clowns?), the movie's central conceit becomes clear: an inexplicably difficult flirtation between the circus proprietor's daughter, Kate (Birkin), still grumpy about her lover's accidental death 15 years earlier, and Vittorio (Castellitto), a convertible-driving single Italian.
Never is the material excited into the kind of playful uncertainty that Rivette all but trademarked; the inertness of the performances robs the movie of spirit. There's some metacommentary spoken to camera, a young woman eating rum-raisin ice cream and a taste of onstage bravado involving a bullwhip, but these elements no more add up to Rivette than they do Fellini, Wenders or memorable entertainment.—Joshua Rothkopf
Watch the trailer
Details
Release details
Cast and crew