Berberian Sound Studio: movie review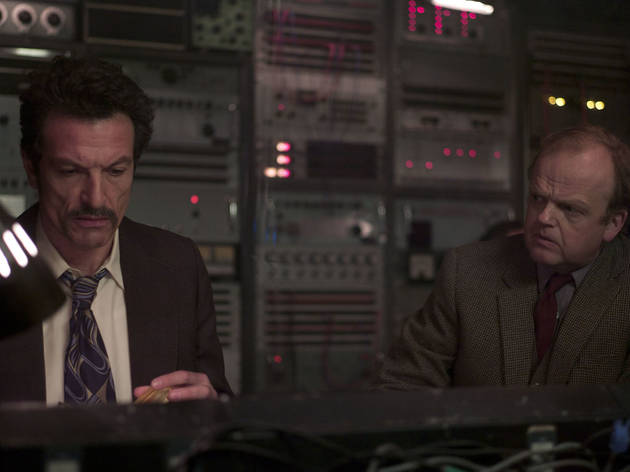 Time Out says
He knows his room tones from his bumps in the night. But British sound engineer Gilderoy (Toby Jones) seems positively baffled by his new assignment from a shady Italian studio: to oversee the audio for a bloody horror flick set at an all-girls equestrian academy. The producer (Cosimo Fusco) is all condescending machismo, the director (Antonio Mancino) is barely there, and Gilderoy's homesickness, coupled with his total disconnect from this sanguine production, may very well be driving him crazy.
Don't expect any sort of traditional freak-out, though. Writer-director Peter Strickland's eerie psychological thriller is distinctively low-key, focusing almost entirely on the power of sound and suggestion. Aside from a gloriously overheated, Argento-esque credits sequence, we never see the movie in question—only observe and listen to the goings-on in the studio and Gilderoy's nearby apartment. Fruits and vegetables are smashed to simulate the stabbing, flaying and crushing of human flesh. Underpaid performers give emphatic voice to screaming schoolgirls and the aroused demons pursuing them. Then there are those letters our introverted protagonist is receiving from his mother back in England, which are getting increasingly, despairingly graphic about a family of birds nesting outside her windowsill.
The creepiness builds with symphonic precision until reality truly is indistinguishable from fantasy. A muted climax may be disappointing to those hoping the film goes full giallo, but it's perfectly in keeping with the fear-inducing Rorschach effect. Like Gilderoy, each of us sees, hears and experiences what our skittish subconscious dictates.
Follow Keith Uhlich on Twitter: @keithuhlich
Details
Release details
Rated:
15
Release date:
Friday August 31 2012
Duration:
92 mins
Cast and crew