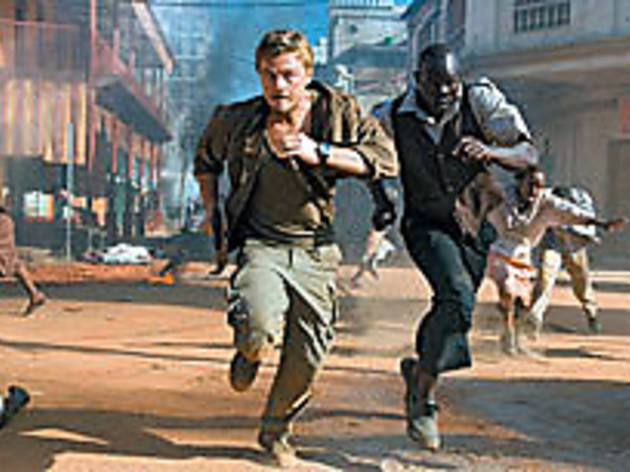 Time Out says
"Ah-cha. Aaaah-cha!... No, it's...Denny! Denny Aaaah-cha!" That's Leo DiCaprio, saying the name of his character, Danny Archer. Didn't get it? Some will find his Afrikaner accent unbearably distracting; others will blame DiCaprio's perfectly scruffy adventurer's beard. In any case, everyone feels like a tourist in Blood Diamond—even the Africans, exploited for their natural resources, for whom the movie's righteous rage is marshaled.
Now pay attention, class: "Conflict" diamonds are not the kind of rocks you want to rock. They make evil white corporate jewelers chuckle with glee and break up perfectly happy African homes. (As ever, Amistad's Djimon Hounsou fulfills the liberal need for statuesque suffering; here he plays a stern Sierra Leonean father whose family is torn asunder by violent paramilitaries.)
Into this political situation—a truly regrettable one, even if Blood Diamond feels like the worst kind of Hollywood lecture—comes "Denny," an amoral gem smuggler whose earnest radicalization is as imminent as a rainstorm after a summer day. Casablanca's Rick he ain't, though DiCaprio can claim a superior Peter Lorre--style weasel in The Departed. Either performance is better than Jennifer Connelly's sour American reporter, on hand to fill up a daringly unbuttoned shirt and mutter speeches about integrity.
Surely director Edward Zwick saw it as a sign of high-mindedness to never have these two model-cute actors share a single persuasive moment of attraction; after all, there are young guerrilla boys to de-brainwash and G8 summits to crash. Blood Diamond has all the cinematic punch of a lengthy Nation article. (Opens Fri; Click here for venues.) — Joshua Rothkopf
Details
Release details
Cast and crew