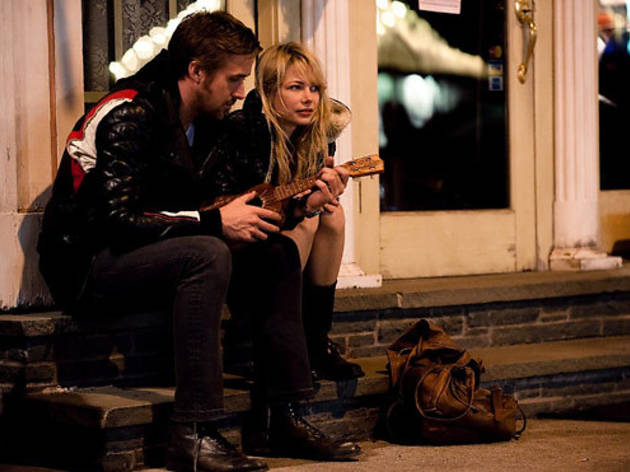 Time Out says
We visit three different places and times in Derek Cianfrance's extraordinary---and extraordinarily sad---relationship drama. One of them is the unnamed Pennsylvania suburb that's home to a slackening hipster family: scruffy house painter Dean (Gosling); his medical-technician wife, Cindy (Williams); and their four-year-old daughter, Frankie (Wladyka). The second place, toggled to with a sharp sense of rhythm, is Brooklyn, a handful of years (and pounds) earlier. The two young adults are in happier, blurrier days, meeting cute, flirting on the street and rising, uncertainly, to the occasion of an unplanned pregnancy. The third place, a kind of purgatory, is a motel's space-themed "future" suite, like some cheap-ass version of Tron: Legacy, in which the older-aged characters lamely try to reconnect. They drink themselves into a stupor.
Blue Valentine has a quiet, resigned wisdom to it: the clear-eyed perspective of a love affair borne aloft by ukulele strumming and weighed down by the realities of money, jobs and disenchantment. It's truly a shame that, thanks to the NC-17 brouhaha, most people will be coming to it wondering how sweaty the sex scenes are. (They serve the story; let's leave it at that.) Something more worth shouting about: a magnificent performance by Ryan Gosling, spinning his boyish charm into a daringly unkempt chubby hubby turned insecure. Michelle Williams, in perfect sync, has the tougher role, the cryptically impatient mom internalizing her dissatisfaction. It's a quieter turn and less of a knockout, but both of them do some of the finest American interplay of the year, developed over months of improv. If you care about the integrity of independent cinema, you'll steel your heart and go.
Watch the trailer
See also "Take five"
Details
Release details
Cast and crew