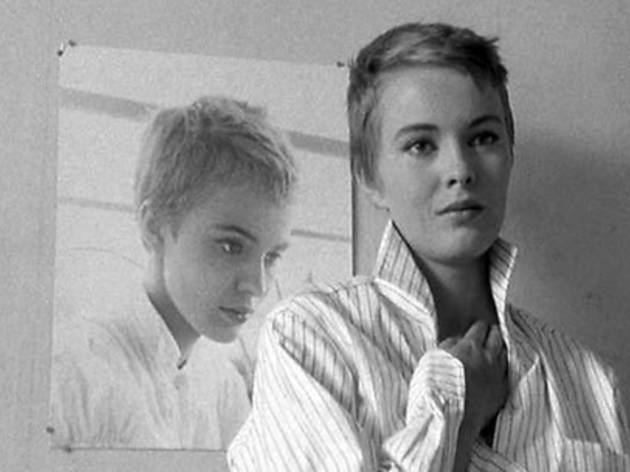 Time Out says
Never mind the jump cuts; today, it's the attitude that makes Breathless so euphoric. This is a film about the "look," both given and taken. As with Fellini's nearly contemporaneous La Dolce Vita, photographers were already hanging around outside the bars, ready to capture a dawning youth culture. Jean-Luc Godard somehow understood this (he worked as a publicist for a while), and while he would go on to make much better films—more radical and beautiful—he would never again make one quite this important.
Movie reviewers are trained at this point to inform you about all the Bogart references and winking nods to film geekery. Let's forget that. Look at Jean-Paul Belmondo as the movie's hero, Michel, on the run from the cops. He's really not all that cool, try as he might. Warmly, Godard invites us into the misadventures of a clown, desperate to impress a girl. (When Belmondo briefly picks up a teddy bear, you can't help but laugh.) If this is Godard's surrogate, it is the director at his most self-deprecating.
Shooting limpid eyes back is the immortal Jean Seberg, whose peach-fuzz neck endlessly allures. In Rialto's stunning new restoration, you can better hear Seberg's Midwestern honk and, as we do with Michel, embrace the excitement of a pretender in a fantasy land. Breathless is an invitation to play. Yes, Godard was entertaining himself, too. But you only appreciate his movie when you dress up in its mood and become someone else. If you miss out on this print, you are truly missing out on another life.
Details
Release details
Cast and crew
Director:
Jean-Luc Godard
Screenwriter:
Jean-Luc Godard, François Truffaut
Cast:
Jean Seberg
Jean-Paul Belmondo
Daniel Boulanger
Henri-Jacques Huet
Roger Hanin
Van Doude
Claude Mansard