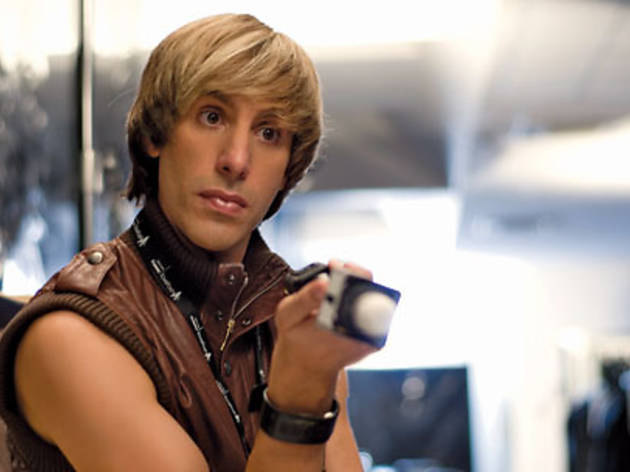 Time Out says
Click here to read our exclusive interview with Bruno
You can make jokes about Hitler. You can strut around Jerusalem in hot pants and fake Hassidic curls. You can make a pitch for an American TV show with a slot called 'Keep It… Or Abort It!'. But, whatever you do, don't you dare make a gag about Michael Jackson. The removal from Sacha Baron Cohen's latest parade of in-your-face shamelessness of a scene in which Brüno, a disgraced Austrian fashion reporter in Hollywood, stitches up La Toya Jackson and tries to extract her brother's number from her mobile, suggests that Baron Cohen's comedy isn't entirely tasteless or free of boundaries. Which isn't something you'd believe while watching a talking penis swinging around the screen or while experiencing the succession of filthy and provocative slapstick, stunts, sketches and stitch-ups that Baron Cohen has jumbled together here into the loosest of loose stories.
The plot is similar to 'Borat': an eccentric foreigner comes to America, does outrageous things, makes people (some famous) look dumb. Brüno is the third clown in Baron Cohen's repertoire after Ali G and Borat, and once again he masks an acid tongue and sharp mind with a distracting voice and a neverending catwalk of ridiculous outfits. But this feels a bit more desperate in the execution, as if Baron Cohen and director Larry Charles are victims of their own success and have had to try much harder to give their film a documentary sheen. There are certainly more question marks hanging over the 'real' episodes than there were in 'Borat' – and fewer of those episodes too – and you doubt Baron Cohen could ever stretch to make another film along similar lines.
But what's lacking in the presentation, Baron Cohen makes up for with sheer ballsy, outrageous bravado. He bulldozes you with shock tactics. Brüno is a mesmerising invention, by turns repulsive and compelling. His exploits, from becoming an extra on US TV show 'Medium' to taking a bunch of rednecks hunting, zero in on fair if easy targets, whether that's homophobic hetero America or the celebrity world, for which Brüno is a global ambassador. (At one point, he visits a Hollywood PR to find a charity to support. 'We've had Darfur,' he says, 'so what's Dar-five?')
The humour veers wildly between the childish (mistaking Hamas for 'hummus') and the savage (an encounter with a 'healer' of gays) and isn't always focused enough – what's the point, in this context, of ribbing representatives of the Palestinian and Israeli causes? And although there's little for the open-minded to find troubling, some might bristle at bitchy Brüno as a stereotype of a gay man obsessed with sex, clothes and fame.
But most viewers won't have the time or energy to dwell on such worries: they'll be watching with one eye closed from embarrassment and the other welling up with tears of laughter.
Click here to read our exclusive interview with Bruno
Details
Release details
Rated:
18
Release date:
Friday July 10 2009
Duration:
83 mins
Cast and crew
Director:
Larry Charles
Screenwriter:
Sacha Baron Cohen, Anthony Hines, Dan Mazer, Jeff Schaffer
Cast:
Sacha Baron Cohen
Gustaf Hammarsten
Clifford Bañagale