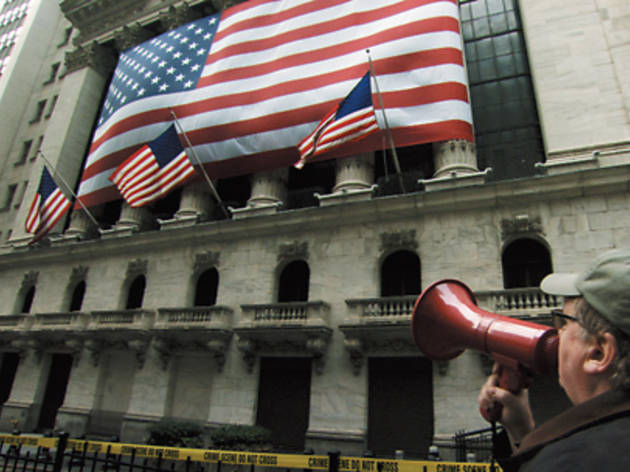 Time Out says
Dir. Michael Moore.
2009. N/R. 120mins. Documentary.
By now, Michael Moore's documentaries have become their own genre (Moore-vies?), complete with a predictable set of conventions. The hectoring narration, the bleeding-heart attack of his far-lefty ideology, the first-person stunts designed to embarrass authority—these are part of the package. The danger is that, post--critical mass, Moore risks fatiguing both converts and casual viewers, drawing attention away from his messages and turning him into a joke instead of the court jester.
Capitalism: A Love Story—the title alone reeks of agitprop sarcasm!—delivers Moore's usual grab bag of ironic kitsch, gotcha clips and infotainment-journalism. He has picked up on the fact that the subject shouldn't be totally overshadowed by cheap theatrics, however, and mercifully dials down the gonzo aspects in favor of slightly more personal reflections. (Though Moore isn't above showing up on Wall Street with crime scene tape, or asking corporate bailout recipients for his tax money back.) While his outrage hasn't dimmed, the filmmaker also finds room for inspiration via successful co-op businesses and a publicized sit-in that helped win workers back wages.
But like Moore's other cine-editorials, this takedown has a hard time distinguishing righteousness from self-righteousness. And unlike such stronger works as Bowling for Columbine, the documentarian's assault never quite incorporates its detours and non sequiturs. Would capitalism be any less screwed up if several priests didn't think it was un-Christian? Why is President Obama's part in the bailouts portrayed as merely peripheral? What the hell is Wallace Shawn doing here? There are moments in Capitalism when you're reminded of Moore's talent for shrieking truth to power. The rest of the film, however, only proves that his quixotic preachiness can make even a worthy cause feel occasionally bankrupt.—David Fear
Watch the trailer
Now playing.
Details
Release details
Cast and crew