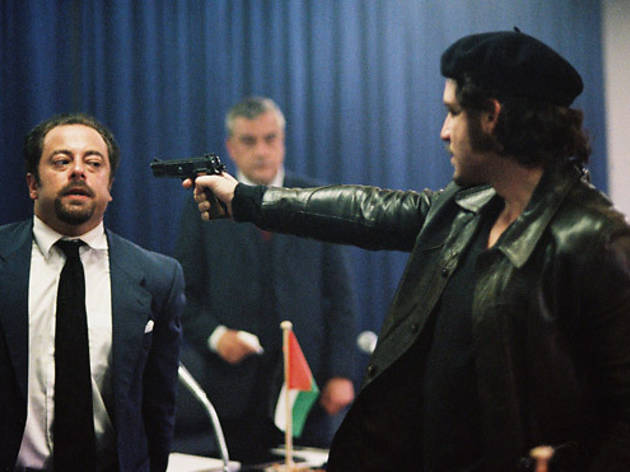 Time Out says
With so many elephants in the room, let's kill one off right away: Though it runs an epic five-and-a-half hours (it was made for French TV), Carlos books like no film since Goodfellas. You will not be bored, ever. Indeed, you'll be swirled up in slam-bang cutting, 1970s radical chic and an unlikely (yet perfectly apt) postpunk score, featuring the bass lines of New Order and the Feelies, among others.
Now onto the bigger headache: Carlos is about a terrorist. Actually, it's about one of the most globally feared terrorists of all time, Venezuelan-born but countryless Ilich Ramrez Snchez (Ramrez, in a staggeringly complex turn), who, as "Carlos the Jackal," besieged an OPEC conference in 1975, hijacked a jet and slayed his way into the popular consciousness in a post--Munich Olympics Europe. Again, like Martin Scorsese's gangster classic, Carlos will be attacked for romanticizing a thug's lifestyle.
It doesn't. Absorbingly, via Ramrez's intense delivery in four languages, we come to appreciate the complexities of a half-smart radical, possibly furthering the Palestinian cause, maybe just a poseur hiding his ego behind idealism (as accuses one of several stunning bed partners). He will not be ignored; commanding attention, he gains weight and gets lazy. By the film's final act---we've hopped from chintzy East Berlin hotel lobbies to Saddam's palace---he's a sack of shit with testicular problems.
Hesitantly, we'll add that a much shorter (and less interesting) version of Carlos will play at Lincoln Plaza. Skip it and commit to the one at IFC. The apex of director Olivier Assayas's already impressive career, it's a landmark of pop politics taken to extremes.
Watch the trailer
See also Carlos's charismatic dgar Ramrez
Details
Release details
Cast and crew