Celine and Julie Go Boating (Céline et Julie vont en bateau) (1974)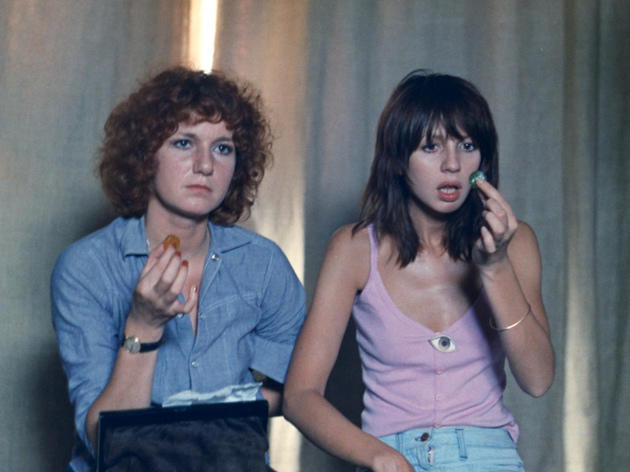 Time Out says
This film ranked #32 in Time Out's list of the 100 greatest French films. Click here to see the full list.
Director: Jacques Rivette

They meet, like Alice and the White Rabbit, in a sun-dappled French park, amateur illusionist Celine (Juliet Berto) bounding heedlessly past studious librarian Julie (Dominique Labourier). One dropped scarf and a lengthy foot-chase later, these two effusive ladies with catlike curiosity are practically inseparable — so much so that they can try on each other's identities like best friends swapping favourite apparel. Celine is Julie, Julie is Celine, distinct yet interchangeable: In their varying guises, they dismantle all real-world attachments (a pompous boyfriend and a burgeoning magic career are playfully, hilariously tossed to the wind) so that they can focus on a fantasy. There's this shuttered-up house, see, where a ghostly quartet is performing a murderous melodrama on a continuous loop.…
Director and cowriter Jacques Rivette conceived Celine and Julie as a light-comic breather following the heavy experience of the epochal, politically charged Out 1 (1971). Don't let the extended running time dissuade you: This is the rare breezy three-plus hours that manages to explore heady concepts—from the malleability of personality to the fine line separating voyeurism and participation — without once feeling laboured. Much of the film's buoyancy has to do with the indelible onscreen pairing of Berto and Labourier; the further they descend into their virtual wonderland, which Rivette cleverly visualizes with strategically repeated visuals and a minimum of ostentatious effects, the more infectious the duo's natural enthusiasm becomes. By the time they've taken full control of the movie's alternate universe — as the melodrama morphs with marvelous ease into a musical comedy — you feel like anything is possible. Cinema this alive is a rare bird, indeed.
Details
Release details
Cast and crew