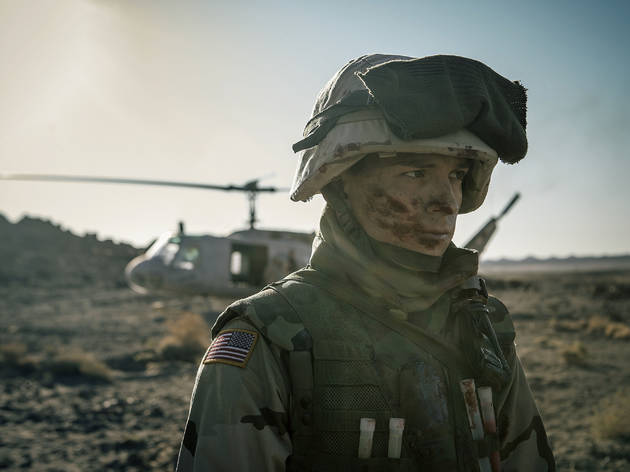 Time Out says
Tom Holland gets gritty as a traumatised war veteran in this overlong, over-showy but compelling true-life drama
Blazing Humvees, needles in arms, small-town banks stuck-up: this dark, dyspeptic but grimly compelling PTSD-and-pills drama charts a litany of decisions. Really bad ones, mostly. Decisions that take its title character, Iraq War vet Cherry (Tom Holland), from youthful promise to a Jarhead-esque baptism of fire to a Trainspotting-like skag house in Detroit.

It's directed – a lot – by Avengers: Endgame siblings Joe and Anthony Russo. The duo bring five billion dollars of filmmaking cachet to the table and go all-out with all the techniques at their disposal to dig into an anguished, opioid-addled American underbelly a world away from Stark Towers.

Tom Holland – their one-time Spider-man – shows
again what a charismatic young actor he is by charting Cherry's arc from spritely college kid to broken-down addict, via soulless bootcamps and grisly combat. Newcomer Ciara Bravo (Wayne) also catches the eye as Emily, his long-standing/suffering girlfriend who freefalls down the same rabbit hole. Together, they offer a heartbreaking, brittle portrayal of dying innocence that half brings to mind Jon Voight in Midnight Cowboy.


Cherry
is adapted from a memoir from ex-army medic Nico Walker and channels those literary roots into a series of chapter headings (nothing spells self-conscious epic like chapter headings). Its vision of America is a lucid dream – or waking nightmare – where aerial shoots capture its characters scurrying through streets that might be deserted or just permanently abandoned. The police show up so rarely, you wonder if they even exist in this narco haze.
Cherry's heists, crimes of necessity to pay for the next hit, unfold in an realm of surreal indifference rather than cortisol-inducing panic – wads of notes are dismissively handed over to this clammy-skinned robber clad in a variety of rubbish disguises. Amusingly – and
this movie
is not big on jokes – one teller refuses to hand over more than a measly bundle. 'She's a fanatic,' notes Cherry.
A little incongruously, his targets sport names like 'Shittybank' and 'Bank Fucks America'.
Cherry
does have elements of satire but then, it has elements of everything: drugs tragedy, war film, crime thriller, social drama, deconstructed love story – all presented in a welter of stylistic tics. For every virtuoso transition, like when Cherry runs into the smoke of battle and emerges out of the dry ice of a gym homecoming ceremony, there's a show-offy bit with a load of unnecessary slo-mo and a fancy camera move. (The music cues are on the money throughout, though, with the Russos' crate-digging yielding a '70s-tinged mix of Van Morrison, Mountain and Grand Funk Railroad.)
But when it all gels,
Cherry
offers a timely portrait of a country medicating itself to mask traumas it hasn't begun to process, as well as a poignant snapshot of youth circling the drain. It's a tough watch, but it envelopes you like a miasma.
In US theaters now. Streaming globally on Apple TV+ Mar 12
.
Details
Release details
Cast and crew
Screenwriter:
Jessica Goldberg, Angela Russo-Otstot
Cast:
Joe Russo
Anthony Russo
Ciara Bravo
Jack Reynor
Tom Holland
Michael Rispoli