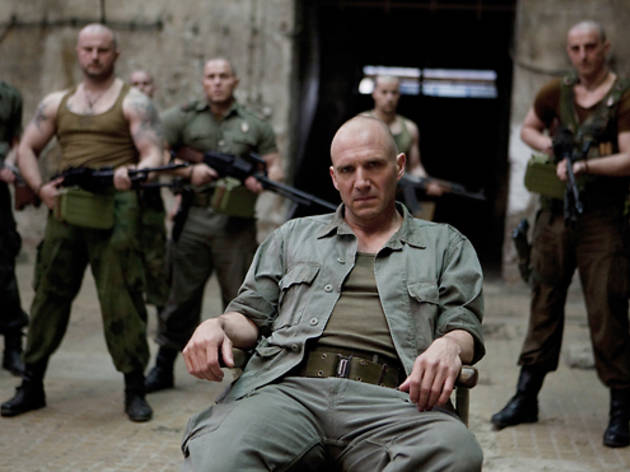 Time Out says
Ralph Fiennes---he of the perpetual glower---has done something truly mighty with this, his first turn behind the camera. A pounding, modern take on Shakespeare's most chest-thumpingly bellicose tragedy, Coriolanus has been pruned of its extremities (by ace adapter John Logan) and transported to a vaguely Eastern European war zone, a "place calling itself Rome." More imposingly, the play now comes clothed in the language of a slam-bang action picture: Our bald-shaved antihero, General Caius Martius (Fiennes, never with so much bark), belittles dovish protesters and rages into battle covered in blood, like an ambulatory Marlon Brando from Apocalypse Now. He's terrifying.
Seeking further power at home, Martius stumbles into a publicity problem and, with the microphones feeding back (the film boasts an excited televisual feel), howls in an interview as he is banished from his homeland. This is where you might get giddy, as you begin to suspect you're watching a better version of First Blood with topflight acting: Martius's eyes grow red and he joins his respected national enemy, Aufidius (Butler), in a move that strikes fear into the hearts of smug senators (chiefly a weaselly Nesbitt). As if these fireworks weren't enough, let's herald the juicy resurgence of Vanessa Redgrave, in the key role of a shamed son's equally warlike mom.
The core of the drama is soldierly pride, abused by those too high-minded to appreciate sacrifice. In lesser hands, this could have easily been some seriously detestable John Wayne jingoism. But via Fiennes, the film is a spiky and complex counterweight to Hollywood sentiment and indie cynicism alike.
Follow Joshua Rothkopf on Twitter: @joshrothkopf
Read our Q&A with director Ralph Fiennes
Watch the trailer
Details
Release details
Cast and crew