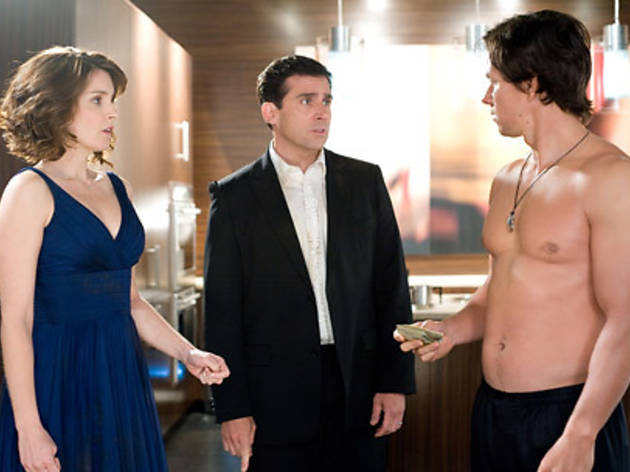 Time Out says
There are those of us who can watch brainy Tina Fey bobble around 30 Rock for hours, and drink up her every self-deprecating zinger like freshly brewed espresso. (As for the others who don't get her—we understand Sarah Palin has a new show.) Still, there's no reason why Fey, so dynamic on the small screen, has to get Anistoned out of a proper Hollywood crossover. Baby Mama (2008) was cringingly mediocre; indeed, one has to cast back to 2004's tangy, Fey-scripted Mean Girls to get a reasonable glimmer of her talent. Even then, we were still watching Lindsay Lohan.
Date Night isn't going to alter this conundrum—it makes you laugh in fits and starts, but more often it feels toothless and exhausted, the kind of project that exists to give Ray Liotta work. (The generic script is by Shrek-sequel scribe Josh Klausner.)
Fey is almost perfectly paired with Steve Carell as bored, married New Jerseyites Claire and Phil: The way they trade quips and cast snide aspersions at strangers, the actors seem totally believable as intellectual mates and, more crucially, deeply in danger of losing intimacy. After stealing a reservation at a clichd-snobby NYC eatery, the couple is mistaken for blackmailers and pursued by goons, North by Northwest--style, throughout the city.
You know where this is going; shouty misadventures in a slow-moving motorboat, a clamorous car chase and an exclusive sex club will surely move them out of the "most excellent roommates" category. When Mark Wahlberg shows up as a shirtless tech-heavy spy—one who can also flirt in Hebrew—he almost constitutes a joke in himself. But can't there at least be faster fish for Fey and Carell to shoot in the barrel?—Joshua Rothkopf
Watch the trailer
Details
Release details
Cast and crew