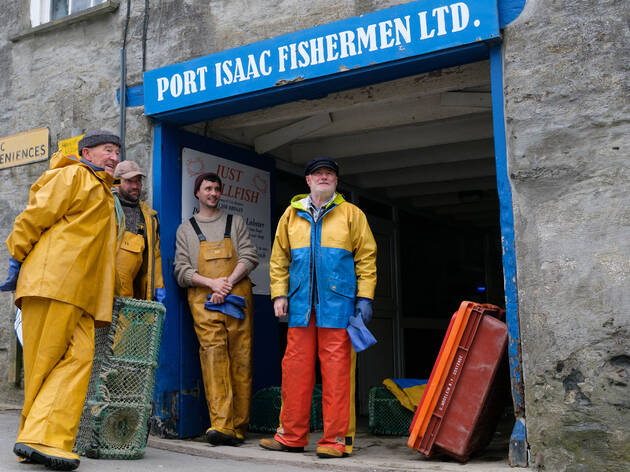 Time Out says
A true-life story of shanty singers achieving unlikely success translates into a corny, but sporadically enjoyable Britcom.
Here's a harmless piece of Britcom silliness loosely based on the incredible rise of the Cornish sea-shanty group the Fisherman's Friends. After being discovered singing on a quayside, the ten-man bunch of mates – all fishermen or coastguards who'd been singing together for donkey's years down the pub – landed a deal with a major label, recorded a Top 10 album and played Glastonbury. Theirs is a tale of authenticity cutting through the PR and hype of the music industry, so what a shame this movie Cornish-ifies, 'Full Monty'-ifies and crowdpleaser-ifies the story until it's as authentic as vegan fish and chips.
The script throws in the fictional character of a flashy music exec played by Daniel Mays, a genuinely funny actor with not much to work with here as Danny, who's in Cornwall for a stag do when he spots the Fisherman's Friends performing. At first, the idea of signing them is a joke, but then he begins to wonder… have these yokely locals got something to teach him about how to really live life? You can guess the rest. There are a couple of nice scenes – like one in London where the band find themselves on-trend in a Shoreditch pub, with their facial hair and navy tattoos. But otherwise this is all pretty groanworthy, with a distinct shortage of decent gags. As for the poor guys in the band – less characters, more a collection of beards and good knitwear – they play second fiddle to the numpty from London.
Details
Release details
Rated:
12A
Release date:
Friday March 15 2019
Duration:
112 mins
Cast and crew
Director:
Chris Foggin
Screenwriter:
Piers Ashworth, Meg Leonard, Nick Moorcroft
Cast:
Daniel Mays
Tuppence Middleton
James Purefoy
David Hayman
Noel Clarke