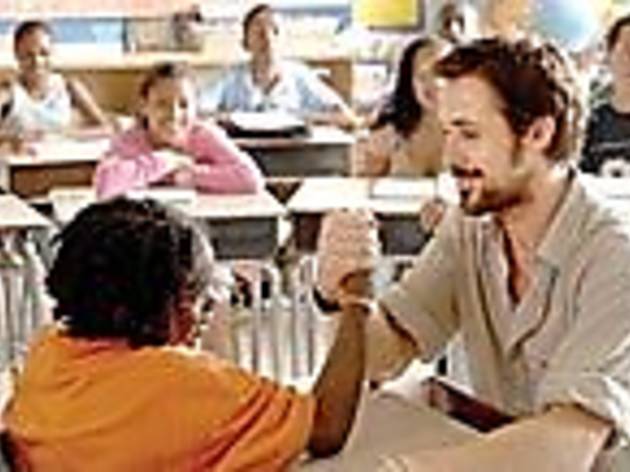 Time Out says
Dir. Ryan Fleck. 2006. R. 106mins. Ryan Gosling, Shareeka Epps, Anthony Mackie.
As summer inches into its dog days, filmgoers can still gorge themselves on spectacles of scraggly pirates, neurotic superheroes and impossibly stylish vice cops. Nothing wrong with that, but those who need to see stories about people—flesh-and-blood folks you sit next to on the F train, or see fanning themselves on a Brooklyn stoop—are likely to starve. Steeped in the jagged rhythms and messy ambiguities of something we call real life, Half Nelson's portrait of a tenuous teacher-student bond fulfills the need for nutrition and then some. To think of this near-perfect drama as merely a seasonal antidote, however, is to damn it with the faintest of praise. Modest yet moving, this character study reaffirms the humanistic potential of independent cinema and might be the best film you see all year.
Despite the title, which suggests teenagers working out their troubles on the mat, the only grappling here is with a monkey comfortably attached to the main character's back. Dan Dunne (Gosling) is the kind of progressive educator who preaches dialectics (history as the study of opposing social forces) to at-risk African-American kids, then tells his giggling pupils to "Holla if you heard me!" He's also neck-deep into an addiction to crack, and prone to prowling the borough's dive bars for quick highs and cheap thrills. Dan's balance between superteacher and strung-out basehead has been successfully running on autopilot for a while, until he gets caught by his brightest student, Drey (Epps), after a basketball game, passed out with a still-warm pipe in his hand.
Inspirational teachers; inner-city students in need of some it-takes-a-village tough love and intellectual stimulation; street drugs begetting downward spirals: These narrative land mines usually produce back-patting odes to the indomitable human spirit, or perhaps a month's worth of programming on Lifetime. But director Ryan Fleck and his cowriter, Anna Boden, didn't want to make Dangerous Minds Redux. Adapting their 2004 short, Gowanus, Brooklyn, into a feature, the duo aims for an organic hybrid of character-driven storytelling and socially conscious filmmaking that doesn't hit you with its soapbox. Their nods to leftist liberalism come in the form of Dan's brief lectures and student reports on Attica and Salvador Allende, dusted lightly with snippets of archival footage. Any larger messages about class inequities and the oppression of "the machine," as the teacher puts it, are embedded in a geography in which underpaid education professionals are required to regurgitate empty information, and rock-slinging is a primary economic option.
It's the actors, however, who give the film its true spark of vitality. Ryan Gosling, like many Methody up-and-comers, has made his name delivering the kind of edgy, intense performances designed to generate buzz: a Jewish neo-Nazi in The Believer (2001), a conflicted football player in The Slaughter Rule (2002), an antisocial killer in both Murder by Numbers (2002) and The United States of Leland (2003). But anyone can play dangerous; communicating real disillusionment is far trickier, and Gosling's ability to suggest chronic failure without resorting to Oscar-bait tricks is astounding. Everything from his two-beats-off delivery to the helpless look in his eyes as he scores from the 'hood's seductive drug dealer (Mackie) comes off as unstilted and natural; even the coked-up swaggering is cut with enough depressive tendencies to avoid clich. He's matched by Shareeka Epps, a 14-year-old with a talent for letting sideways glances and silences render pages of dialogue unnecessary. Her Drey is almost completely reactive, but there's such a combination of intelligence and innocence going on behind her observer's stare that it's hard to believe that Epps isn't a seasoned pro.
Fleck's grainy, everyday-people vision racks up points for the way it bypasses the usual shortcuts—neither surging strings nor earnest Indiewood preciousness spoil the party—in favor of a rough-hewn, regional sense of the real. But Gosling and Epps's pas de deux is what gives Half Nelson its depth, its soul. You're not sure what the future holds for the film's twosome after the movie's open ending, whether better tomorrows or repeats of bad yesterdays lie around the corner. It offers no easy answers, just the privilege of watching folks finally learn to help each other and, for a moment, push their problems aside. That, in itself, feels like such a gift.
Half Nelson opens Friday 11.
Details
Release details
Cast and crew