Harry Potter and the Deathly Hallows: Part 2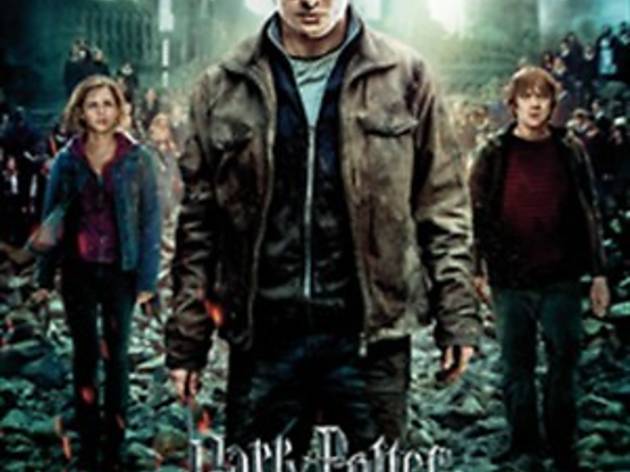 Time Out says
Talk about transcending your roots. In ten short years (and eight rather long instalments), the Harry Potter series has gone from harmless, derivative boarding-school hi-jinks aimed squarely at bookish pre-teens to Julie Walters calling Helena Bonham Carter a bitch before killing her in cold blood. And that's not even the nastiest bit – there's some business here with Alan Rickman and a mean-tempered snake that'll have even the toughest Potterphiles hiding behind their popcorn buckets.

But despite the increase in bloody violence – and the deaths of several major characters – 'Deathly Hallows Part 2' has little of the picturesque doom and gloom that sank its glum, tent-bound predecessor. This is an action movie, plain and simple, and all the better for it: from the breathless opening heist on Gringott's magical bank to the hair-raising battle of Hogwarts which occupies most of the second half, this is crammed to the rafters with sword-swinging, expletive-hurling, dragon-riding magical mayhem.

The opening act is patchy but enjoyable, as a confusing, backstory-heavy dialogue scene leads straight into the aforementioned bank raid, a spectacular but rather rushed set piece. There's just enough room for the obligatory introduction of another superfluous supporting character – in this case, Dumbledore's crotchety brother Aberforth – before Harry and chums break back into Hogwarts and the main narrative kicks in.

Everyone brings their A-game here, notably director David Yates and screenwriter Steve Kloves, who balance the source novel's head-spinning blend of action, emotion and narrative intrigue with absolute confidence: one lengthy flashback sequence midway through is arguably the dramatic high point of the entire series, and even the sugary sweet coda, so mawkish on the page, becomes a thing of quiet beauty. The SFX are phenomenal, bringing to the magical shenanigans a tactile solidity which has been missing in previous episodes, while Yates's use of 3D is never intrusive, and occasionally breathtaking.

But, as with most of the Potter films, it's the cast who really deliver: the young leads have never been better, and it's great to see Yorkshire's finest, Neville Longbottom (played by Matthew Lewis), relishing the chance to step out of his chums' shadows. It's the villains who stick in the memory, whether it's Rickman's wondrously tight-lipped turn as the doomed Professor Snape or Ralph Fiennes's genuinely peculiar but utterly convincing take on evil incarnate.

'Deathly Hallows Part 2' is far from a perfect film – the central plot point, the revelation of Harry's destiny, is badly fudged, and there are a few too many key questions left hanging. But while it's unfolding, this is just terrific fun: eye-scorching, ear-battering, heart-pounding cinema of pure spectacle.
Details
Release details
Rated:
12A
Release date:
Friday July 15 2011
Duration:
130 mins
Cast and crew
Director:
David Yates
Cast:
John Hurt
Michael Gambon
Warwick Davis
Helena Bonham Carter
Clémence Poésy
Daniel Radcliffe
Emma Watson
Ralph Fiennes
Alan Rickman