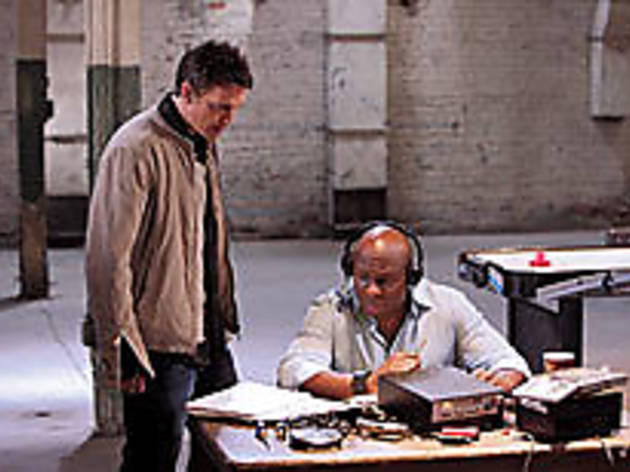 Time Out says
Self-contained, limited-run series—a fixture in the U.K.—are almost unheard of in America, but they're a logical extension of the season-long story arcs with which 24 and Prison Break are making hay. Although NBC's first stab at the format shamelessly borrows from Ocean's Eleven and The Thomas Crown Affair, the pilot for Heist suggests the 13-chapter series will avoid the been-there-done-thats by making the most of the breathing room its length provides.
Dougray Scott and Steve Harris (The Practice) stand in for George Clooney and Brad Pitt as the masterminds of a plot to rob three Rodeo Drive jewelers during Oscar week, a time when upscale bling merchants import megabuck baubles to lend stars for the big night. Mickey O'Neill (Scott) figures there's $500 million waiting to be stolen—but since it takes money to make money, capital-raising jobs must be pulled before the big one.
The producers scored a major coup by filling the token old-timer slot with independent-film veteran Seymour Cassel, a bottomless reservoir of energy. Like Harris, he's especially well-suited to the colorful dialogue crafted by Mark and Robb Cullen (creators of the short-lived FX comedy Lucky), which recalls both Quentin Tarantino and Gilmore Girls creator Amy Sherman-Palladino. On the side of the law, Michele Hicks is tart and bracing as the LAPD bureau chief destined to spar with Scott, while Reno Wilson and Billy Gardell are a hoot as detectives who unapologetically lob racially charged verbal grenades at each other.
The punch of the pilot (directed by The Bourne Identity's Doug Liman) may be hard to sustain, and some elements flirt with clich. But while truly original elements are scarce, most of the familiar ones are executed with serious panache. If it's all been done a million times before, there's a darn good reason why.—Andrew Johnston
Details
Release details
Cast and crew