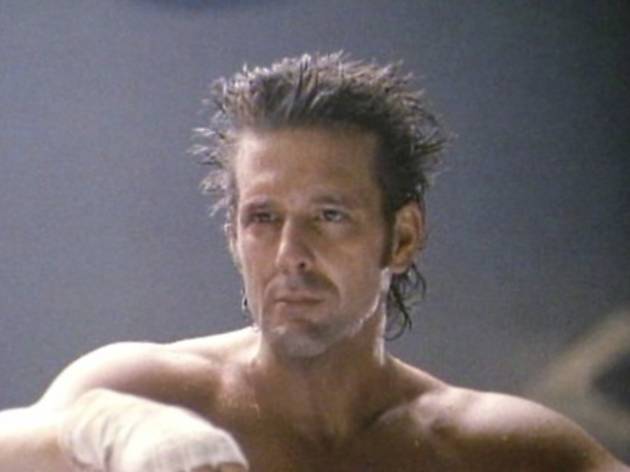 Time Out says
Still very much the awkward movie last seen briefly in 1988, Homeboy is now a fascinating part of the legend of Mickey Rourke, post--The Wrestler. Try it. The comparisons are enjoyable, even if you can't count the movie as a major one in the careers of anyone involved—except maybe cinematographer-turned-director Michael Seresin, who quickly went back to twiddling camera knobs after finishing.
Based on a script by Eddie Cook (Rourke himself, using a pseudonym), Homeboy is the tale of battered amateur boxer Johnny Walker, who stumbles in a blurred haze toward one last redemptive fight. His skull is fractured; a well-placed blow could kill him. Still, a sharklike promoter (Christopher Walken) keeps that information withheld from him. Johnny, a lovestruck mumbler, can only live the way he knows how.
Sounds awful familiar, yes? Homeboy comes too early in the precipitous fall of Rourke's career—he'd only just finished Angel Heart and Barfly—to qualify as tragically apt. But the degree to which Rourke commits himself is prophetic. His face is slack and puffy, and you cringe at the actor's vulnerability. Showboating Walken, meanwhile, carries what little humor there is here, especially in a scene where he's prancing around in a Cassavetes-like nightclub number. The sluggish pace feels like a conscious rejoinder to then-popular boxing dramas like the Rocky movies and Raging Bull.
An art film? Most certainly, and you begin to appreciate the achievement of The Wrestler's Darren Aronofsky, who loosened up for his movie. Yet Homeboy's score, by a soloing Eric Clapton and composer Michael Kamen, is a keeper, filled with tasty blues bends. Never before on domestic DVD, the movie merits a listen.—Joshua Rothkopf
Details
Release details
Cast and crew