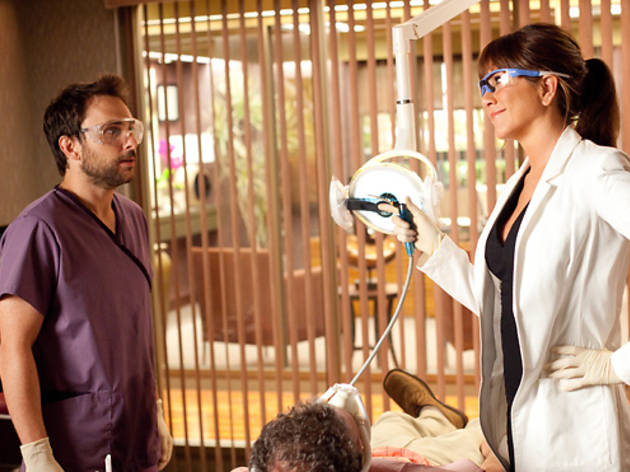 Time Out says
As ick-friendly as a frat-guys-drink-free night at Hooters, Seth Gordon's comedy starts off by indulging in typical workplace wish-fulfillment fantasies: Wouldn't it be great if I could kill my soul-sucking boss? (If my superiors are reading this, you're wonderful and I have no plans to murder anyone. You may stop dialing 911 now.) While the movie's trio of petty tyrants---a passive-aggressive asshole (Kevin Spacey), an aggressive-aggressive cokehead (Colin Farrell), the horniest female dentist ever (Aniston)---exhibit the worst human qualities possible, they alone can't be credited for the despair you'll feel toward our species. That responsibility is shared by our film's heroes, three frustrated everyguys who turn white-male rage into a Wagnerian symphony of dudes behaving badly.
All the put-upon boorishness of an office drone (Bateman), a chemical-plant manager (Sudeikis) and their sexually harassed buddy (Day) might be forgivable, were Horrible Bosses actually funny instead of sporadically amusing and desperately vulgar. But once the trio decides to off each other's offensive higher-ups, a mistaken notion of ugliness equaling edgy hilarity goes steroidal. Bits that could have courted actual darkness la Very Bad Things---violence, venality, vindictive sex---simply register as dank shock-jock gags done with little courage, and even less conviction. Only Aniston, embracing the chance to show off
a seriously foul mouth, displays anything resembling commitment. (Talking dirty is now a comedienne's equivalent to what Tropic Thunder dubbed "going full retard.") Yet even her raunchy tirades feel like calculated outtakes from some uncensored TV episode: "The One Where Rachel Explicitly Dishes About Her Genitals." Fans of the star's photo-shoot exhibitionism, or those who mistake crassness for being comic, will consider her performance a tour de force. Everyone else will be too busy washing off this movie's repulsive residue with postscreening steel-wool showers to contradict them.
Watch the trailer
Details
Release details
Cast and crew