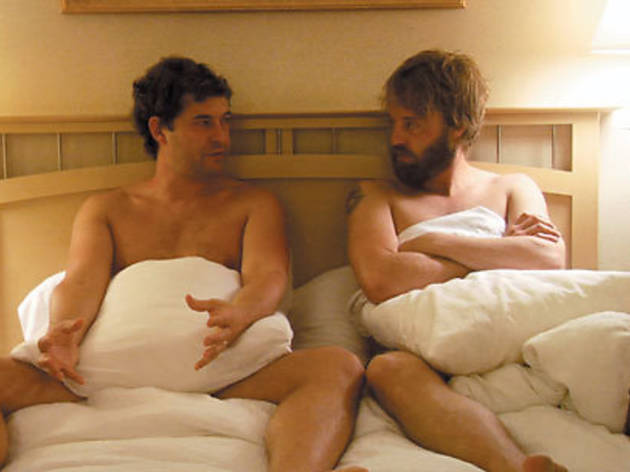 Time Out says
As opposed to Sunday or Tuesday? Certainly some people need to schedule—and when we first meet the young marrieds of Humpday, Ben (Duplass) and Anna (Delmore), they're laughing at their own lame excuses; tomorrow, they promise.
But then the door bangs and it's Andrew (Leonard), Ben's loco college buddy and a committed explorer of the continent known as work avoidance. Can he crash here for the night? A little nostalgia and one drunk dare later, the two backslapping men are setting another date, also involving humping (and making an art film), both of them insisting on their former adventurousness. "It's beyond gay," Ben says, unsure of what either intends to prove.
This finely acted if somewhat sensationalist comedy, much buzzed about at Sundance, has been associated with the zero-budget awkwardness of the mumblecore movement (actor Duplass is one of its directors, lately of Baghead), as well as Judd Apatow's bromances and even You, Me and Dupree. But the sincerity of the performances brings to mind a deeper and perhaps truer comparison: Kelly Reichardt's Old Joy (2006), also set in the Pacific Northwest, also about a bearded remnant of the past showing up and the difficulties of saying goodbye to an older, shaggier self-identity. Parenthood looms for Ben while Andrew remains stranded in arrested bohemia; never do you feel they're actually interrogating their own straightness rather than a kind of incipient squareness. Humpday boasts some killer arguments as Anna watches her domestic bliss slip away, but the film comes to a dramatic tidiness that belies its early potency. Still, Lynn Shelton, the movie's writer and director (and an onscreen libertine), has more in mind than simply making bros squirm.—Joshua Rothkopf
Opens Fri.
Details
Release details
Cast and crew