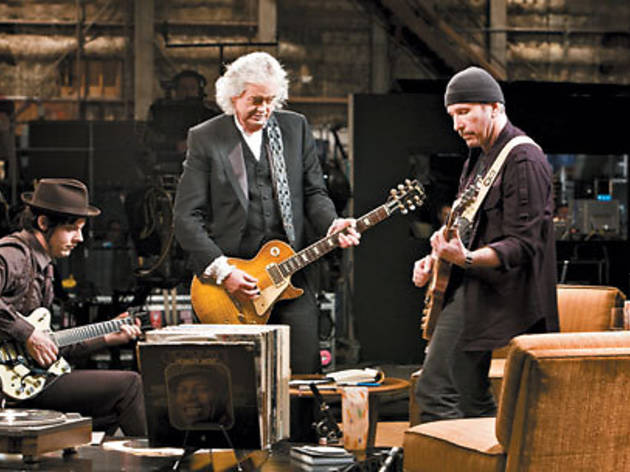 Time Out says
Only stoners and geologists ask questions like, where does rock come from? Director Davis Guggenheim, on the other hand, has no intention of doing so, even though he's assembled the authoritative summit of riff-wranglers for his guitar doc, It Might Get Loud: Led Zeppelin's godlike Jimmy Page; U2's postpunk tinkerer the Edge; and retroblues wailer Jack White of the White Stripes. Together, they occupy a Los Angeles soundstage, gleefully trading licks, jamming and, without saying it, arriving at a succinct definition of the beauty of wasting time.
A must-see for ax players, the movie is not terribly concerned with history. Still, its design is smarter than you realize. (Guggenheim revealed more about Al Gore in An Inconvenient Truth than did the Veep's entire presidential campaign.) Each of these icons represents a distinct era of rock's evolution. Testimony from Page's disciplined early London session days dovetails neatly with the Edge's Dublin high-school bulletin board, the site of U2's formation. White, meanwhile, builds a guitar from a two-by-four, stressing the willfulness of today's DIY operator. Subtly, the film makes valid points about the scrappy, workmanlike ethos behind most successful artistic endeavors.
Essentially, It Might Get Loud is a triple interview on the same topic, and that's not even the guitar, but maintaining a creative spirit. The Edge may express doubts about his technical prowess, but his humongous rig galvanizes him into a proud strut, pushing him forward. To see Page casually drop the needle on an old Link Wray surf single ("Rumble," famously used in Pulp Fiction) and start to dance, eyes shining, is to realize that he really did find the fountain of youth. And that's where rock comes from. (Opens Fri.)—Joshua Rothkopf
Now playing.
Watch the trailer
Details
Release details
Cast and crew