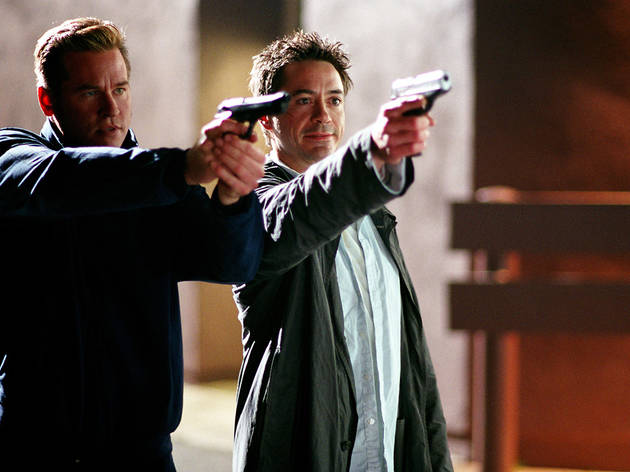 Time Out says
Screenwriting wunderkind Shane Black is back from the wilderness. Nearly two decades ago, the Lethal Weapon franchise canonized the type of snarky, cocksure action hero with witty retorts for every emptied bullet chamber, and turned the then 22-year-old into one of the highest-paid screenwriters in Hollywood. But by the 1990s, his high-octane buddy movies had fallen out of favor: Black's last studio-produced script was the pricey 1996 dud The Long Kiss Goodnight.
He finally reemerges as a bona fide auteur—of a high-octane buddy movie centered on snarky, cocksure action heroes with witty retorts for every emptied bullet chamber. Working from a novel by the late pulp-fiction author Brett Halliday, Black has crafted a ridiculously convoluted murder mystery that would tax most moviegoers with its tired red herrings and overblown sense of style, if the writer-turned-director hadn't been shrewd enough to cast Robert Downey Jr. and Val Kilmer, whose on-screen chemistry is inspired; Kilmer's turn as a gay private dick is a long-overdue reminder of his roots as a funnyman.
The two are so loose and fun together, and share such a similar sense of comic timing and wordplay, that it is heartbreaking to think of all the lost opportunities the duo could have had over the years. Their mid-career pairing must be encouraged and furthered—even if that means having Black put them in yet another boys-with-toys rehash.
Details
Release details
Cast and crew
Director:
Shane Black
Screenwriter:
Shane Black
Cast:
Val Kilmer
Robert Downey Jr
Michelle Monaghan