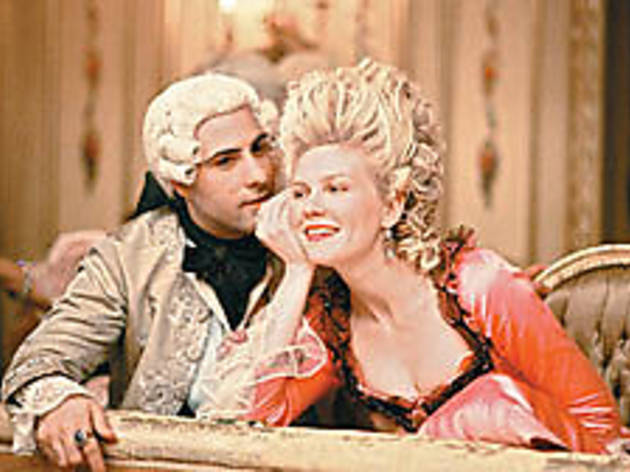 Time Out says
Dir. Sofia Coppola. 2006. PG-13. 123mins. Kirsten Dunst, Jason Schwartzman, Steve Coogan.
Poor royal innocent. Thrust into the limelight at a tender age, she flips her hair, curls her lip and ruins a glorious dynasty through her own self-absorption. Revolution!
But enough about Sofia Coppola's performance in The Godfather, Part III. She is, by now, the most vital director of the family, so let's not begrudge the young lady her talents: an eye for pink-hued plasticity (whether in Tokyo or Versailles); a cool babysitter's musical taste; the confidence to let an actor's presence carry an entire scene—not a bad thing when it's Scarlett Johansson.
Nevertheless, there's a dangerous brattiness to Coppola's Marie Antoinette, an implicit raspberry to the misery of the masses (unseen here) that, while true to the spirit of France's defiantly fashionable "Madame Deficit," is probably not the tone a modern artist wants to strike—at least one who wants to be taken seriously. It's almost as if in trying so hard to avoid airless costume drama, the director has come out the ditzy rear end of accidental tribute. This will be the ultimate question for those who submit to Coppola's undeniably energetic vision, loaded with slashing postpunk guitar chords (misappropriated) and shopping montages: Has she made the Queen of Pain too cool?
Meanwhile, back on planet Earth, in Coppola's America, we indulge our own dynastic Presidents and lapdog-adorned heirheads. Marie Antoinette may have been strenuously booed at Cannes, but it's certainly a product of its day: an icing-slathered, girly music video devoid of conscience. (Don't say that too loudly in the vicinity of Sofia's more zealous fans and a guillotine.) It's tempting to ascribe an element of satire to such galloping decadence—Paris Hilton: The Movie. But Coppola seems way too enamored of her piles of bonbons, stacked hairdos and endless parade of shoes to be an attacker. (The ensembles, which include a sly pair of Converse All Stars, are by Stanley Kubrick's brilliant costumier Milena Canonero.) It turns out that Coppola, the most prominent of Generation X filmmakers, has proved herself to be its most emblematic: serenely aloof, reluctant to make statements, with a cooler-than-thou record collection.
Swaddled at the center of this powdered confection is Kirsten Dunst, so perfect in Coppola's The Virgin Suicides as the dreamy, doomed Lux. Come to think of it, Dunst is very often the dreamy, doomed Lux. Her idea of acting sometimes seems to require a blow to the head with a large foam mallet. While this works wonderfully in stuff like Eternal Sunshine of the Spotless Mind, you can't help but think a sharper presence, one more privately amused at empire's fall, would have been just enough to lend Coppola's biopic the heft it needs. Instead, Dunst transitions too seamlessly from appealingly scared dauphine-to-be, stripped bare at the border of Vienna and France for the "official handover," to self-entitled churl, snubbing the king's louche companion (brassy Asia Argento, the best thing in the movie) and taking to the waters like a shark.
Coppola, for her part, seems distracted as a shaper of the drama, which is too bad given the delicacy of her script for Lost in Translation. She flits between thematic impulses like a bored mall rat: nose-thumbing comedy of manners in one instance (Coogan and Judy Davis offer up some delicious shocked expressions), endless romp the next. This may, of course, be a faithful representation of the real Marie Antoinette, too shallow a figure (even in Antonia Fraser's sympathetic 2001 biography, on which Coppola's film is based) to bear the weight of political player. She is the first fashionista—a difficult premise from which to derive a two-hour entertainment. But the film's overall casualness undermines the sovereign's singularity: We're supposed to titter at Jason Schwartzman's doofus Louis XVI, timid in the royal bed and happier to discuss the workings of locks, until suddenly we're not: "I will not be a king in exile!" he declares solemnly. And she suddenly decides to stand by him. Where did these teens grow backbones? On the croquet field?
The ultimate failing of Marie Antoinette, fun for all its emptiness, is Coppola's coy eschewal of the queen's public demise (which, paradoxically, lent her a final flush of dignity). We hear some shouting at the gates, see the royal couple's sun-dappled escape by carriage and, finally, sulk out of the theater to a dirgy Cure song and a shot of a trashed imperial bedroom. For all we know, Marie Antoinette might have escaped the blade. In Coppola's universe, she pretty much does.
Marie Antoinette opens Friday 20.
Details
Release details
Cast and crew