1/2
PIN-DOWN BOY Stadlober tops Ullmann.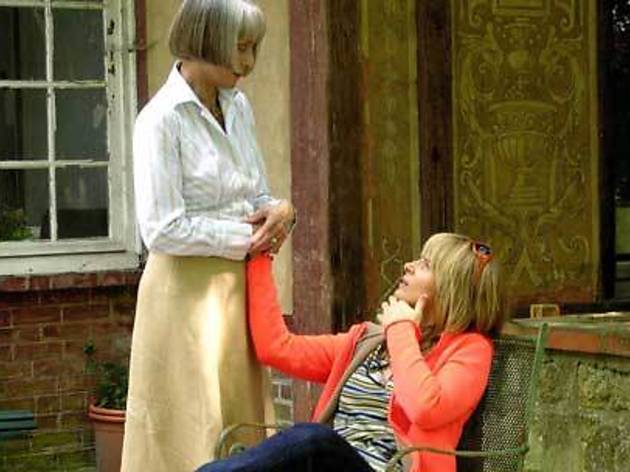 2/2
MOTHER OF INVENTION Scob, left, welcomes the impulsive Binoche.
Time Out says
Kids and dogs spill noisily into a sun-dappled backyard; a tree is scaled, a secret note seized and decoded. Summer Hours, as brightly alive a movie as the season will offer, begins with a blast of kineticism, a perfect idyll of overflowing champagne and the lazy sparks of family reunion. The adults are also children: Adrienne (Binoche), Frdric (Berling) and Jrmie (Renier) devote their filial attention to the elegant Hlne (Eyes Without a Face's immortal Scob), widow to their artist father and wry in her birthday spotlight. "Ah," she says, receiving a mohair blanket, "the present for old people."
And then, she is gone. Summer Hours concerns itself, unassumingly but profoundly, with the life force itself, as Hlne's estate is sorted out by her trio of grieving but capable heirs spread across the world. It's not a sentimental movie by most standards, though tears are shed quietly in a dark room by Frdric once it's clear the house will be sold. Can a movie so concerned with the legalities of asset appraisal also be rippling with momentum? The director is Olivier Assayas, a brilliant mind who occasionally postures his globe-trotting thrillers (the ridiculous Boarding Gate) as vinyl-clad correctives to Hollywood. Ironically, he's never made a movie this vital, his purest filmmaking pushing the characters into unspoken uncertainty and evaporating legacy. Crinkling bubble wrap encases a sculpture, the camera drifting by like a spirit. Where does all this formal wisdom and lovely modernist culture come from? It comes from the past, and Summer Hours is smart enough not to end up in a museum, but on a wild, weedy lawn charged with yesterday and today. You must remember to see it.—Joshua Rothkopf
Opens Fri.
See also "A man for all seasons"
Details
Release details
Cast and crew