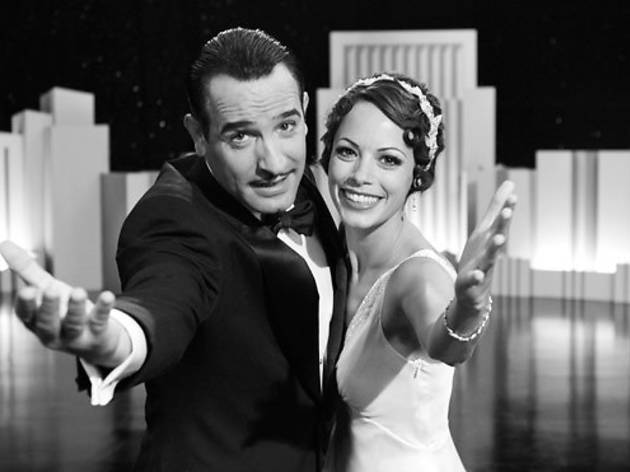 Time Out says
A fascinating experiment is about to happen, and who doesn't want to be part of a little fun? That rarest of birds---a b&w silent film---is set to swoop into multiplexes. Trust us, it won't bite. One could call The Artist a French import (it is) or a Hollywood movie (it's essentially that, too); the picture might even have the wings to be a global phenomenon if the onscreen evidence is to be believed. At the very least, you won't have to complain to your neighbor to be quiet.
Exuberantly entertaining and an emotional grower on reflection, Michel Hazanavicius's backstage drama takes the old A Star Is Born plot and makes it sing (very quietly). Our hero and title character is the Fairbanksian George Valentin (the magnetic Dujardin), a Tinseltown draw whose career is at its brightest. He and his trick dog delight the crowd. But with the impending rise of talkies---"the future," his studio boss (Goodman) warns---Valentin's pride flares up disastrously; he's soon out of work and destitute.
Meanwhile, a rising starlet with a whistle and a wink (Bejo) strides up the same stairs that Valentin is descending. If The Artist has any chance of connecting with the masses, it's via this tender relationship, transcending the form and material. Were the silents of yore simple affairs? Often, yes. But the era's masterpieces threw complex shadows, and this new one shouldn't be dismissed as a lark: If you can point to a glut of other new movies that touch upon voicelessness, personal calamity and economic despair, I'll eat my bowler hat.
Follow Joshua Rothkopf on Twitter: @joshrothkopf
10 silent films you need to see
Watch the trailer
Details
Release details
Cast and crew