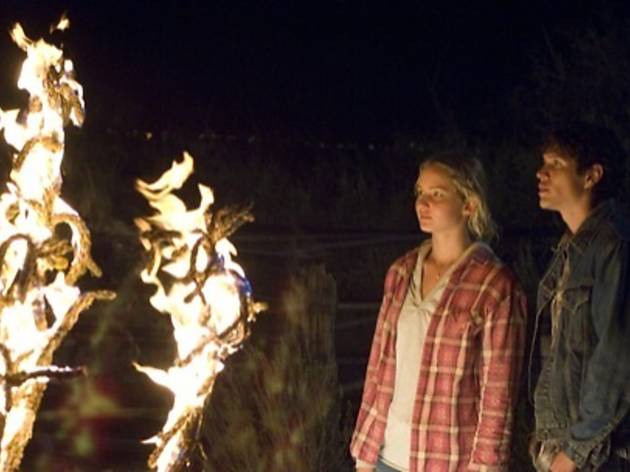 Time Out says
By now, the crisscrossing plots of such films as Babel and 21 Grams feel peculiarly dated, like turn-of-the-millennium disaster movies. Undaunted, Guillermo Arriaga—the screenwriter for both of those mix-and-match parables—gives his grab bag of spatiotemporal switchbacks one more hard shake. His directorial debut yields a self-hating matre d' in Oregon (Theron), an unfulfilled New Mexico housewife (Basinger) having an affair with a Mexican-American absentee father (De Almeida) and a Romeo-and-Juliet romance between two teenagers (Jennifer Lawrence and a truly dull J.D. Pardo).
There are more insert-tab-A-into-slot-B details, but Arriaga forgets that revelatory twists have no impact if you don't care about the characters. For all the pretenses of roiling or suffocated desires, the cast appears to have been ordered to deaden all sensation (except for Basinger, who frets away in an underwritten part). You might keep a low profile, too, if you had to deliver lines like "I don't know if it's right...but it's real."
When all is said and done, The Burning Plain does burp up giddy camp appeal—at one point, Pardo pauses midconversation to bean a bird with a slingshot—and compared to Babel, Arriaga's operatic idiocy feels tame here. Still, this film's greatest accomplishment is that its theatrical gestures manage to feel preposterous, pretentious and routine at the same time.—Nicolas Rapold
Opens Fri.
Details
Release details
Cast and crew