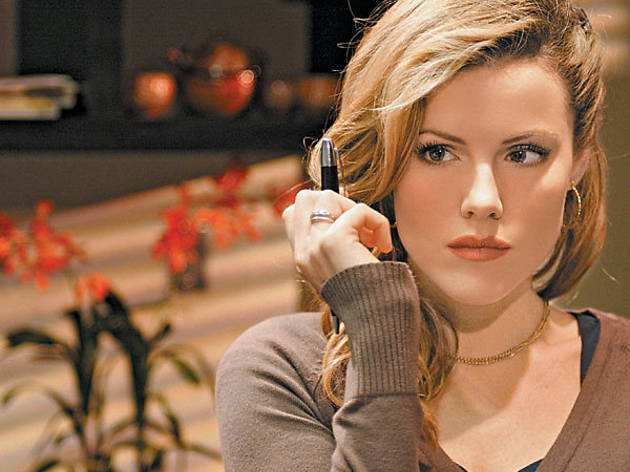 Time Out says
Don't let the bus-shelter ads lead you to dismiss The Business as Showbiz Sitcom No. 26,543. Rather, this Canadian series is a workplace show that just happens to be about people who make movies: It's what The Office would be if it took place at an entrepreneur-owned operation instead of a corporate outpost.
Last year, in the first season, soft-core porn impresario Vic Morgan (Rob deLeeuw) converted to Judaism and redubbed himself "Morgenstein," to facilitate his transition to the legitimate side of the film industry. Now, after scoring a modest hit with a low-budget horror movie, Vic and his partner Julia Sullivan (Kathleen Robertson) have to figure out what to do with the profits.
An indie mainstay best known for her days on Beverly Hills 90210, Robertson is billed as the star, which makes plenty of sense as she's both a major babe and an executive producer of the series. But it's DeLeeuw, who ensures that Vic's personality is as generously proportioned as his belly, who's at the center of most of the story lines and who serves as The Business's answer to Steve Carell's Michael Scott and Ricky Gervais's David Brent. But while the series is clearly influenced by both versions of The Office (it falls closer to the U.K. original), the more significant touchstone is another Canadian sitcom, Ken Finkleman's drier-than-dry The Newsroom, which predates Gervais's creation by five years. Aside from Vic, Julia and horn dog PR guy Tony Russ (Trevor Hayes), the characters here are a tad clichéd, but it helps that the whole cast knows the importance of understatement. The Business may deal with a lot of deeply unpleasant people, but they're presented with an almost stereotypically Canadian politeness, without which things like the full-frontal male nudity in the season's second episode (don't worry, we're not talking about DeLeeuw) wouldn't be half as funny.
Details
Release details
Cast and crew