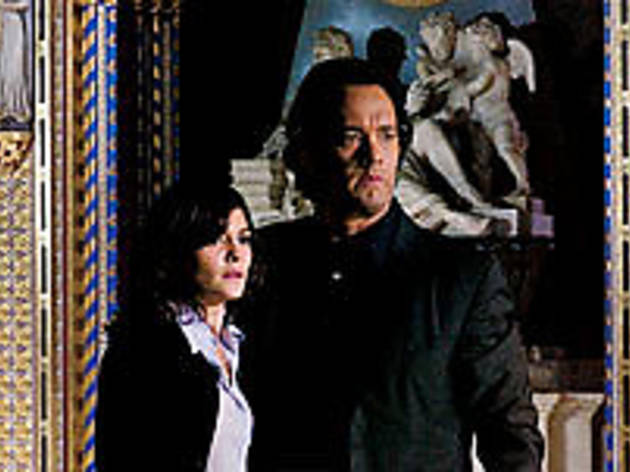 Time Out says
Friends, I've cracked The Da Vinci Code. No, not the flank of publicists shielding the movie from early-deadline critics, or even the elaborate chain of Louvre clues and Opus Dei subterfuge presented in the long-winded, snoozy film itself. I mean the enigma of Tom Hanks's hair. Could it be...? Yes: Jim Belushi.
Barring an intentional homage, one can only speculate what this follicular symbol might mean. The hero of Dan Brown's best-seller, Harvard iconologist Robert Langdon (Hanks), might read into it the Belushi sibling rivalry, in which a louder, paler facsimile can't attain the heights of the hallowed elder. And he'd be absolutely right: Though blessed with insanely popular genes, Ron Howard's version of the page-turner ain't thrilling in the slightest. Big, bland and larded with distracting ghostly digital effects, The Da Vinci Code deflates before your eyes.
Alerted to a global cover-up pointing to Jesus' earthy relations, Hanks and Amlie's Audrey Tautou flee a murderous albino monk (Paul Bettany) and other robed spooks with the sluggishness of ancient clerics. Hanks is particularly dour; wouldn't such a tweedy globe-hopper have a gleam of curiosity in his eye? Hans Zimmer's score swoons with voluptuous menace, perhaps in compensation for the dull reactions of the cast.
Only Ian McKellen, playing the swishiest symbologist ever to grace the field, drags the movie from its slumber during its middle section. "I am on a Grail quest!" he squeals. The whole movie should have channeled his campy enthusiasm. Instead Howard seems to think he's doing Hamlet. But it's ham, Opie. (Now playing; click here for venues.)—Joshua Rothkopf
Details
Release details
Cast and crew