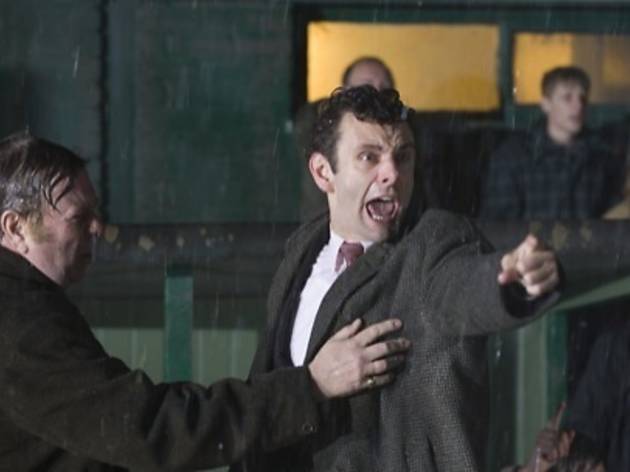 Time Out says
American soccer fans—all four of you—don't hate me for saying so, but The Damned United has very little footballing in it, thankfully. The arm-challenged sport certainly figures in this enjoyably mouthy movie, primarily about bluster, which derives from David Peace's much darker account of hubristic 1970s Brit coach Brian Clough.
Clough, if we're to understand it in New York terms, was equal parts hotheaded Billy Martin (both managers were former players) and money-savvy George Steinbrenner. He led his basement-league team, Derby County, to victory while maintaining a rivalry that ultimately got him fired from a prime gig. As played by the quick-witted Michael Sheen, Clough's a beautifully arrogant bastard—and let's pause to consider how Sheen, the finest second banana working today, has gone from the deference of Tony Blair (The Queen) to the serene diplomacy of David Frost (Frost/Nixon) and now come out on top. He's dazzling here, finally cut loose.
So if we're mainly not on the grass but down in the office, sweating it out with the ultracompetitive Clough (who can't even bring himself to watch the big match), what exactly are we seeing? The Damned United, adapted by screenwriter Peter Morgan—the guy behind all three of Sheen's chatty successes—is about yet another historical pair of platonic lovebirds, namely Clough and his brainiac partner, Peter Taylor (the ever-watchable Spall), a soccer savant who completed his razzle-dazzle colleague and chafed at his slights. The movie is about how Clough comes to a modest apology, hardly the heady stuff of Frost/Nixon—or then again, maybe exactly the same thing. This one's more rude and fun.—Joshua Rothkopf
Opens Fri.
Details
Release details
Cast and crew