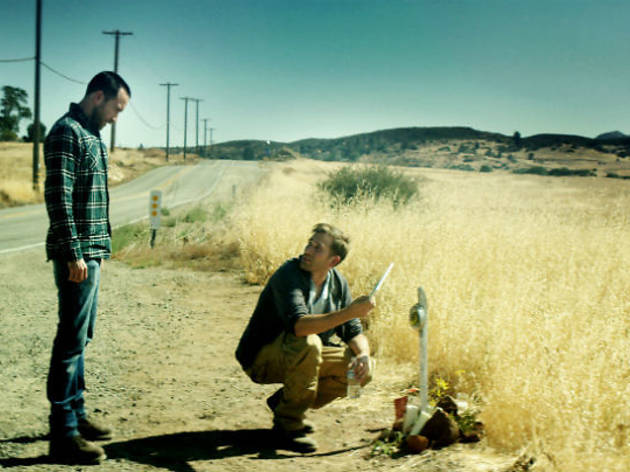 Time Out says
This impressive indie brims with atmosphere and Lovecraftian weirdness.
This impressive low-budget indie starts slowly but gets better and better as it weaves a genre-defying tapestry of weirdness, atmospherics and cultish horrors across a dusty American setting. On the surface, it's the story of two brothers, Justin and Aaron (actor-directors Justin Benson and Aaron Moorhead), who return to the remote cult they fled years earlier, prompted by the arrival of a mysterious cassette inviting them to 'The Ascension'. The place is blighted by enigmatic happenings. Flocks of birds swirl overhead and odd, Giacometti-esque sculptures dot the landscape. There's an 'it' out there, watching over the zealous acolytes – led by Tate Ellington's ('Straight Outta Compton') preternaturally calm leader Hal – and it may not be entirely benevolent.
You're meant to wonder whether the pair of quarrelling siblings are about to have a spiritual epiphany or end up as dinner for an 'X-Files'-like critter. It takes a while to convince, but from here Benson and Moorhead peel away the layers of their mystery with real confidence and skill. They maintain razor-sharp control over the unsettling mood, pulling off potentially jarring tonal shifts – eerie sci-fi spookiness gives way to moments of stoner comedy – and peppering the brothers' frequent clashes with startling flashes of bizarreness and violence. The micro-budget shows in some slightly shoddy visual effects, and Benson and Moorhead's naturalistic acting style occasionally wobbles, but the pair pull their high-concept allegory together with a bravura climax that makes at least some sense of all the trippiness. There are even shades of Rian Johnson's 'Looper' and Shane Carruth's 'Upstream Color' in the film's thinky science-fiction beats. Expect much more from this talented double act.
Details
Release details
Rated:
15
Release date:
Friday June 29 2018
Duration:
112 mins
Cast and crew
Director:
Aaron Moorhead, Justin Benson
Screenwriter:
Justin Benson
Cast:
Aaron Moorhead
Justin Benson
Callie Hernandez