The Hobbit: An Unexpected Journey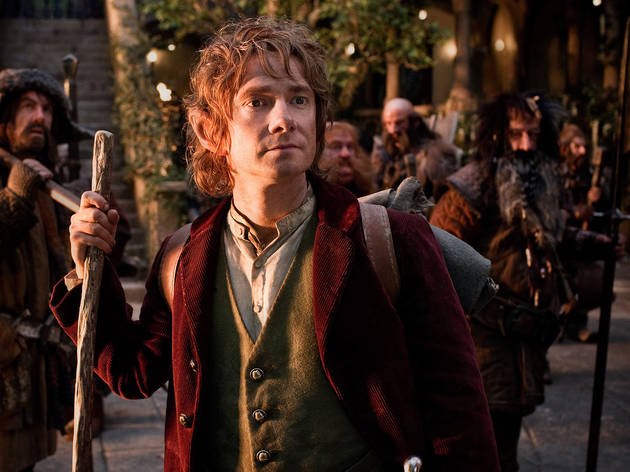 Time Out says
A mesmerizing study in excess, Peter Jackson and company's long-awaited prequel to the Lord of the Rings saga is bursting with surplus characters, wall-to-wall special effects, unapologetically drawn-out story tangents and double the frame rate (48 over 24) of the average movie. It is, in other words, a P.J. & Co. superproduction through and through. The portentously overstuffed prologue alone reintroduces Ian Holm's elder hobbit, Bilbo Baggins; sets up the villainous, fire-breathing dragon Smaug (here a mostly offscreen presence); includes a cheery cameo from Frodo (Elijah Wood); and finally settles down, 60 years pre-Fellowship, when Gandalf the Grey (the great Ian McKellen) asks younger Bilbo (Martin Freeman, a terrific addition to the Middle Earth players) to accompany him on a life-altering "adventure." Phew!
This is far removed from the slender J.R.R. Tolkien fantasy novel from which An Unexpected Journey, the first of three features, is sourced. Whereas the book's pace is breezy, the movie's rhythms are more measured and deliberate; the first hour is essentially a leisurely character comedy in which Bilbo flounders around his Hobbiton home as it is overrun by Gandalf and his company of 13 dwarves. Then it's off to the races for our heroes: Mountainous landscapes are clambered over. Growling bands of orcs, trolls and goblins are fought. And a bunch of familiar faces reappear, from the Elvish leaders of Rivendell to that covetous creature who can't stop muttering about his "pre-shhh-us!"
Even though this installment is mostly a prelude, Jackson's eccentric mixture of low humor, earnest foreboding and digitally processed pageantry is consistently engaging and immersive. Plus, the higher-than-hi-def visuals (sure to be divisive) are fascinating for how they blur the line between spectator and spectacle; it's an idiosyncratic move that gives this bulky blockbuster a defiantly personal edge.
Follow Keith Uhlich on Twitter: @keithuhlich
Details
Release details
Rated:
12A
Release date:
Thursday December 13 2012
Duration:
169 mins
Cast and crew