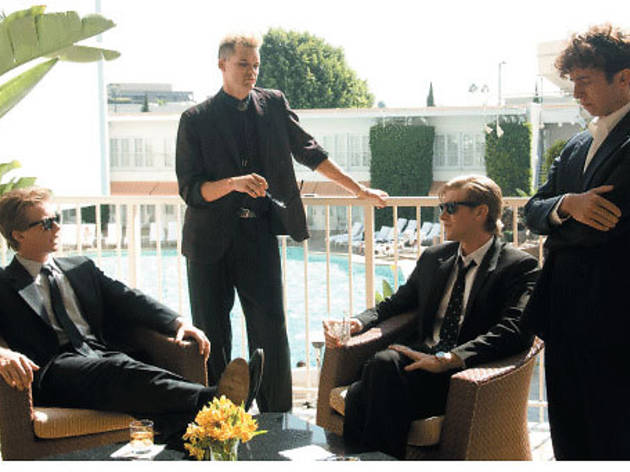 Time Out says
Blond, pretty things flounce decadently in a Roman-style mansion; a party is in progress and Simple Minds croons imperially about "new gold dreams." Almost redundantly, a title informs us that this is Los Angeles, 1983. Haircut pursues haircut; a hanger-on is curtly rejected. The imported sports car flies in from out of nowhere, flattening a young god. Ten minutes later, no one will give a shit.
Who could possibly be responsible for such pitch-perfect shallowness? Bret Easton Ellis's wobbly 1994 collection of L.A. vignettes has undergone some serious alterations; indeed, the above scene doesn't even exist in it. Even though Ellis's name is on the adaptation (along with coscreenwriter Nicholas Jarecki), there are rumors of unhappiness. That's too bad, because director Gregor Jordan may be the first filmmaker to resist flattering Ellis with imported depth (as with Mary Harron's scalpel-sharp American Psycho) or synth-driven sturm und drang (Less than Zero). Instead, The Informers flits from a blithely unfaithful studio head (Billy Bob Thornton) to his estranged trophy wife (Kim Basinger) and handsomely troubled son (Foster) with but the slightest interest in significance.
And isn't that precisely getting it right? We may not care about these vapid Spago regulars and Bryan Ferry-look-alike cokeheads, but only rarely does Jordan fall into knee-jerk retribution (mysterious splotches pollute the nude body of Amber Heard's party girl). This is a very specific kind of '80s nostalgia—just as Watchmen had its nuke-showdown simplicity and Adventureland crafts a seedy summer fun zone out of Falco. The Informers is the new gold dream: a gorgeous lie of squandered wealth that might make you choke laughing. (See also "The Hot Seat")—Joshua Rothkopf
Opens Fri.
Details
Release details
Cast and crew