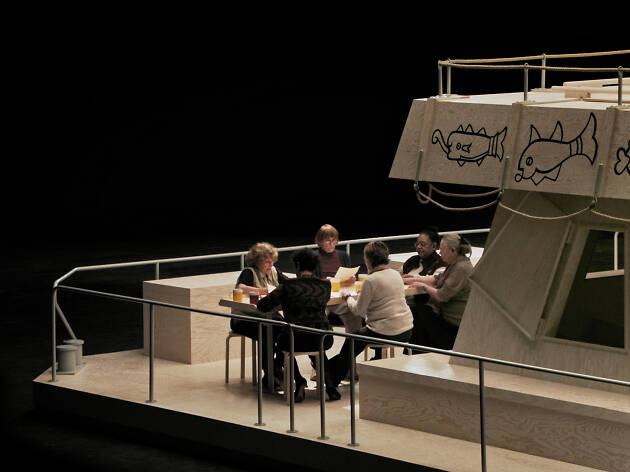 Time Out says
A bonkers social experiment from the 1970s makes for a highly watchable documentary.
In 1973, decades before reality shows like 'Survivor' and 'Love Island', social anthropologist Santiago Genovés conceived of a remarkable experiment, ostensibly designed to study the origins of violence and sexual dynamics. He constructed a purpose-built raft, selected ten volunteers, a mixture of nationalities, races, religions and genders, and set them adrift in the Atlantic for three months to explore how social dynamics, sexual politics and omnipresent danger would affect the group. In a laudably progressive move, he hired a female captain and put the six women in charge, giving menial tasks to the five men, himself included. Would the group pull together to create a kind of social utopia? Or would it all go a bit 'Lord of the Flies'?

Now, more than 40 years later, Marcus Lindeen's documentary delves into Genovés's bizarre experiment, reconstructing the raft from original plans and reuniting most of the subjects to discuss their memories of the expedition, itself illustrated with archive film from the voyage. Evidently, it was plain sailing for a while, but things grew more fractious when Genovés deliberately upset the interpersonal dynamics of the subjects by revealing, reality show-style, what they said about each other in private questionnaires – and especially when the press got hold of the story, dubbing it the 'sex raft'. Some remember Genovés fondly; others as a 'master manipulator' using 'Gestapo methods' to provoke his subjects. Whatever your view of the experiment's scientific value, Lindeen's film is a fascinating insight into one of the strangest experiments from 1970s academia.
Details
Release details
Rated:
12A
Release date:
Friday January 18 2019
Duration:
98 mins
Cast and crew