The Reluctant Fundamentalist: movie review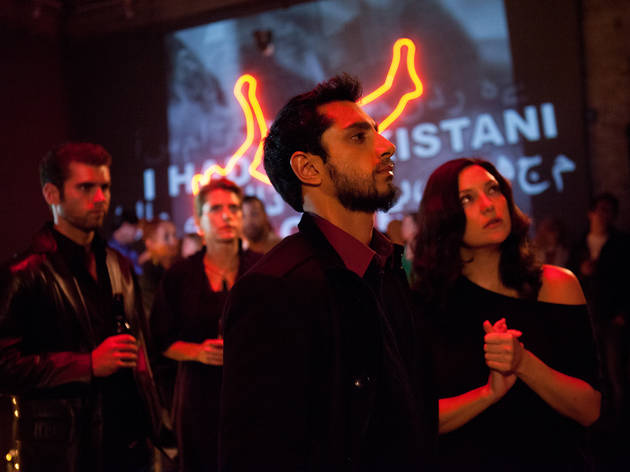 Time Out says
An American journalist and a suspected terrorist chat in a Lahore, Pakistan, café. The sit-down between reporter Bobby Lincoln (Liev Schreiber) and firebrand Changez (Riz Ahmed) is occasioned by the kidnapping of a Westerner: As the presumed insurgent unfolds a flashback-heavy tale of his journey from Wall Street power player with rich artist girlfriend (Kate Hudson) to subversive, rabble-rousing university instructor, a team of U.S. operatives tries to suss out Changez's involvement in the abduction.
This scenario has all the makings of a spare, gripping story—My Dinner with Andre with a jihadist twist. But in adapting Mohsin Hamid's first-person novel, director Mira Nair chooses to go flabbily macro with the story's riches-to-radicals themes, as opposed to pointedly micro. Ticking-time-bomb suspense is not Nair's forte, so she relies on Michael Andrews's Middle East–inflected score to do most of the heavy lifting in the present-day scenes, which feel shapeless and perfunctory. The rest of the film takes place in a pre- and immediately post-9/11 past, re-created with a well-intentioned slickness that is alternately admirable and annoying. For every plus, like the frank acknowledgement of the racist atmosphere that arose after the towers fell (a cooly rendered strip search sequence is particularly unflinching), there's a minus, like Kiefer Sutherland's comically simplistic embodiment of an Ayn Rand capitalist (and a closet queen, to boot).
What holds your attention is Ahmed, known for his work in the suicide-bomber satire Four Lions, whose ingratiating charisma makes a potent, politically charged combination with his character's ambiguous motivations. Even as you question Changez's every Agitator 101 utterance—and the film's slapdash attempts to use him as a vehicle for a grand statement about the shock, awe and alienation of our modern world—you can't help but fall under his magnetic spell.
Follow Keith Uhlich on Twitter: @keithuhlich
Details
Release details
Rated:
15
Release date:
Friday May 10 2013
Duration:
130 mins
Cast and crew